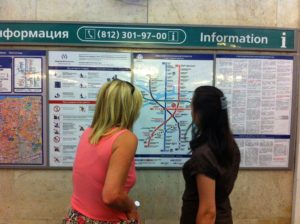 We arrive in St Petersburg on another sunny day and are immediately told that the sun hardly ever shines.  Once again Florida exports its best commodity to other lands!  It's early when we arrive and I need coffee, so our guide Julia Lededeza takes us to a local coffee house/museum. This turns out to be the oddest little place we could have ever hoped to find. My croissant with cheese tasted quite a bit like Kraft Mac & Cheese and the coffee was almost undrinkable. Not the most auspicious start but..
We then were off to our first restaurant filming at the famous Palkin on Nevsky Prospect, St Petersburg's main thoroughfare. Our local "fixer' Arsenio Outekhine was there to get us set up. It was a beautiful place and we were given a separate dining room for our shoot. After a bit of waiting, odd communication and some frustration I did get to try some very tasty Russian dishes including hare croquettes and the excellent 38.5% alcohol Russian (rye) vodka – Polugar.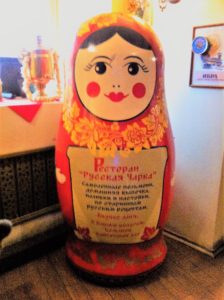 This visit was followed by a trip to The Vodka Room along with my husband, Patrick and our 2 friends Sarah & Brian who were on the cruise as well. Salted cucumbers, caviar, smoked meat and fish were tasted along with (I think) 5 vodkas. The favorite seemed to be the horseradish vodka that really made me want a hot dog to go along with it. We left there warm and happy and with gifts from the manager too (a Russian nesting dolls with a bottle of vodka inside.)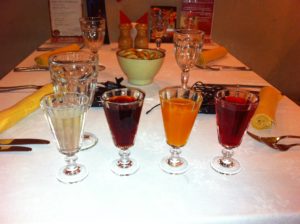 We overnighted in St Petersburg and while many took an excursion to the Hermitage that evening we decided to take it easy and be fresh and ready for our next day as we seemed destined to taste more vodka.  And so we did, at Ruskaya Charka, where we were given 4 very large shot glasses with different fruit vodkas and my favorite, horseradish, while we waited for the dishes the chef was preparing for me.  After the meal we took a ride on the metro and I stopped in to a local farmers market to pick up some local cheese and other goodies.
While many visit St Petersburg for the palaces and museums (they are amazing) – I enjoyed eating and drinking my way through it. This episode will definitely show you the city in a fascinating way.