I have to agree with everything that has been said that Rhodes – it just might just be the most beautiful island in Greece. One of the largest, the old town is magnificent and shaped with medieval walls and a maze of cobblestone streets. The mixture of old and new coupled with its natural beauty is astonishing, so it's no wonder that it's a major tourist destination.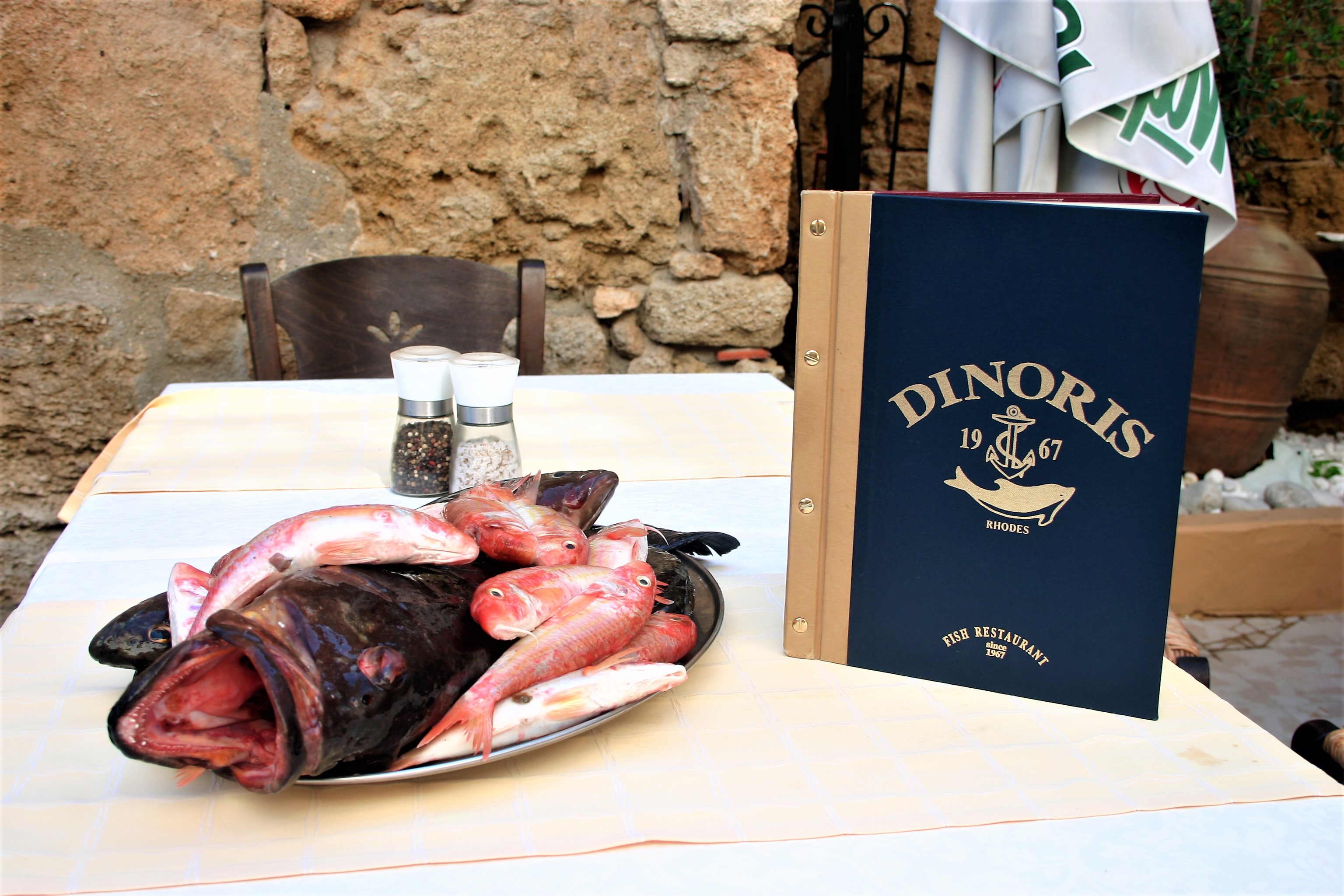 The ship docked at the Northern section of Rhodes just outside of the old town. Walking with my day's guide Gioiella, we meandered through the small streets to one of the oldest seafood restaurants in Rhodes, Dinoris. Coming to a beautiful spot hidden among the ancient walls, I was fascinated to hear that the building dates back to the 13th century when it housed the stables for the Knights of St. John. It is an elegant and stylish space with a beautiful garden that is romantically set among these ancient walls.  I was greeted by the charming owner and his daughter, Despoina, the 3rd generation of the Dinori's family who continue to run this renowned establishment. After taking some photos together, Mr. Dinori proudly showed me his most recent fresh catch of grouper.  Mrs. Dinori arrived just in time to clean the fish before Mr. Dinori cooked it. In the meantime, Despoina and I sat in the beautiful garden sipping a refreshing white wine of Rhodes while waiting for the fabulous dishes coming my way. To my amazement, Mr. Dinori appeared with not one but 3 different plates of food consisting of succulent stuffed squid, a medley of mussels and shrimp over rice as well as the delicately prepared grouper. As a special treat, my entire crew and I were given a specialty cake of the house, prepared with rose petal sauce that Mrs. Dinori makes herself. It was a hit. To say goodbye, I was given a "big" glass of ouzo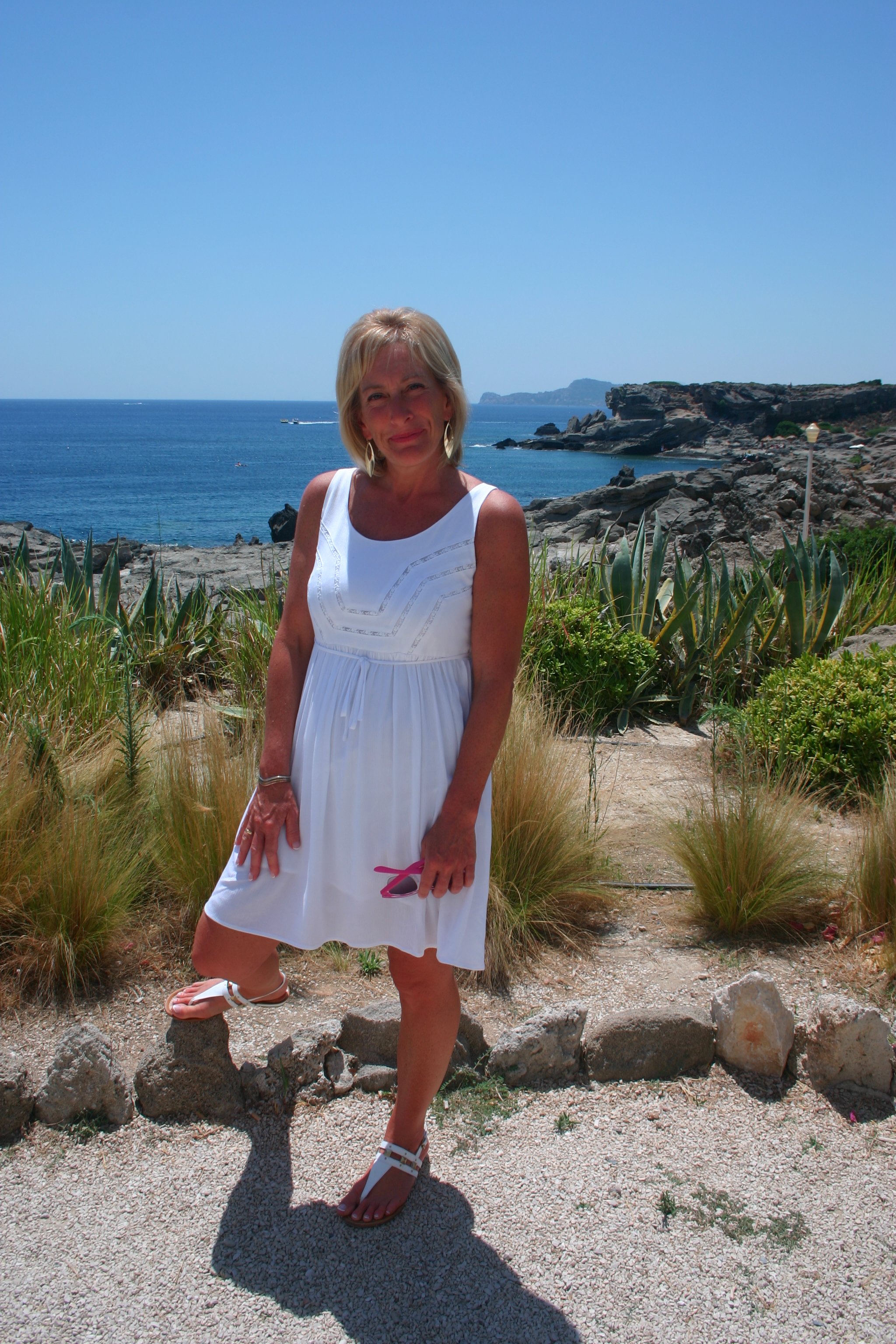 that was quite a good ending to this delicious start of the day.
Heading to the new town now, I was looking forward to dining at the award-winning international restaurant, Wonder. Walking through their front gate and down the stairs to a very pretty courtyard garden, I met the owner who knew we would be coming. Unfortunately like most restaurants in Rhodes, they were not open for lunch and the chef wasn't available. The owner seemed rather embarrassed and I too was disappointed, but "When in Rhodes" you roll with the punches so we made a quick stop at Kalithea Spa & Springs, where the water in the bay is said to have healing powers. Now, it is a place dotted with sandy beaches and a picturesque landscape, a perfect spot to sit and have an iced cold beer.
After that short respite, we drove to Tsambikos Taverna, situated on a small beach overlooking Kavourakia harbor. I was so excited to arrive at a true and authentic, relaxed waterside Greek taverna. The entire staff were standing by ready to prepare yet another feast for me. Soon the table was filled with an eggplant dish, stuffed squid, (very popular and tasty), octopus, green beans and special Greek cheese balls. The preparations were simple but delicious.  It was here that Gioiella told me that charming story in our episode about not calling a Greek between 6p and 9pm – hilarious.
Having just enough extra time before getting back on the ship, Gioiella brought us to Locanda Demenagas, a restaurant back in the old town near the port but off the tourist radar. When I saw the food cooking on the stove in the open kitchen and smelled the aromas emerging from them I was quite excited to get a taste or two. The cook let me look into each pot and choose what I wanted right there in the kitchen. Since I had my fill of seafood, I chose rooster with pasta, moussaka, some greens and another eggplant dish. The rooster was so tender and juicy. I loved it. The owner, Lefteris Demanegis came over to say hello and offered a shot of ouzo for each of my crew. By the time we left, we each had a bottle of wine from Rhodes and a box of fresh cherries. (I just love Greece!)
Santorini is one of the most dramatic islands you will ever see. Pretty white houses line the rocky terraced terrain overlooking the magnificent blue water of the Aegean Sea and the huge caldera created by one of the biggest volcanic eruptions in history. Its beauty and history have made it a huge tourist destination but, somehow, it manages to maintain its charm.
After tendering in from the ship and meeting our driver for the day, we made our way through the vast crowds to get the cable car to the top of Thira. It was good to have our local helper, George, with us to get us to the front of the extremely long lines since we had appointments to make. We certainly weren't going to take the donkey ride up the mountain or walk in the 90+ degree heat.  It was a short but stunning ride up to the top of the main town where we took in the views over the cliffside (while coping with the smell of donkey.)
We drove North from Thira to Domaine Sigalas winery in Oia where I was given a wonderful tasting and walk through the vineyards with the tasting room manager. Panayiota. She explained that the owner continues the island's ancient winemaking traditions, recognizing the potential that Santorini's Assyrtiko grape has to offer. Producing around 300,000 bottles a year, the Domaine 's estate wines come from Assyrtiko, Aidani. Mandilaria, Mavrotragano and Athiri. It was interesting to see the unique pruning system that is prevalent in Santorini known as Giristri, where the vine is trained into a wreath shape resembling a basket. This is important to protect the grapes from the very strong winds and hot sun. You can see vines like this all around the island.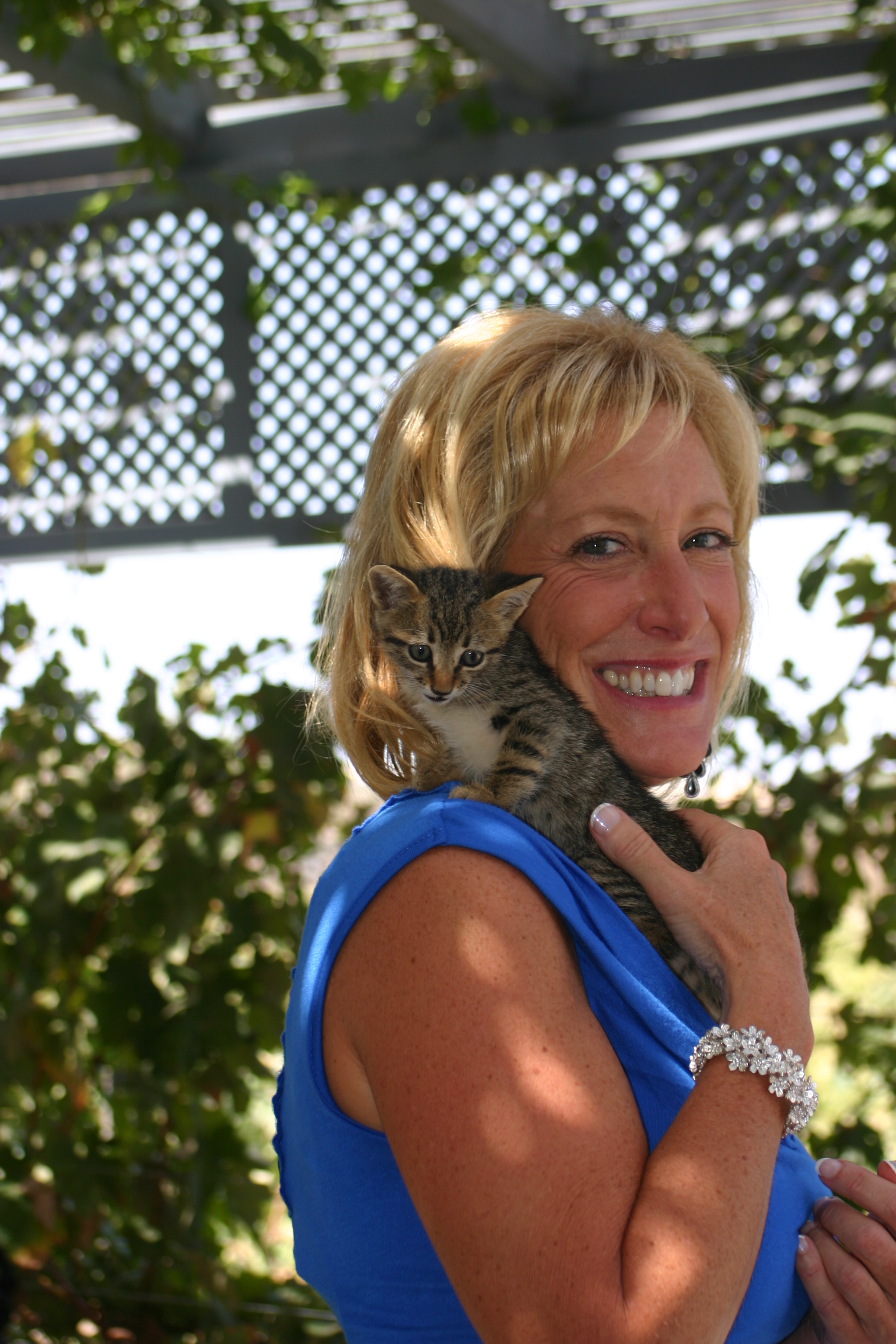 Sitting under the grape vines, surrounded by the vineyards, I was able to not only sample a few wines but was given special island foods to eat along with them that included fava bean dip, white eggplant and local feta cheese. The Assyrtiko went so well with the goat feta. I loved the Vinsanto, their sweet wine made from Assyrtiko and Aidani. It was a really nice way to get a taste of Santorini.  A surprise ending to my visit was to hold a little kitten that had appeared under one of the winery's trucks a few days earlier. She became very snuggled in my neck and it was very hard to leave her behind. But, she'll be well taken care of at the vineyard.
Leaving the winery and town of Oia, it was a beautiful drive now to Kamari Beach, an area of black sand beaches and waterside restaurants. The owner and Chef Vassilis Zacharakis of Nichteri restaurant opened just for us and had already been preparing a table in his charming glass enclosed dining room.  There he cooked one of his special Santorini dishes for me. As I had found out at the winery earlier, fava beans are a major ingredient on this island and the Chef was making a dish called Santorini Sausage which consisted of fava beans, pork sausage and a poached egg on toasted bread. Fava are yellow split peas that have been growing in the volcanic soil of Santorini for thousands of years. After cooking and blending the beans, they are cooked into a mousse with butter and chicken broth. The sausage is prepared, the egg poached and all the ingredients are placed onto the toast with a sprinkle of white truffle oil as garnish. I was taken aback by how delicious this simple sounding dish tasted – the creamy textures coupled with the crunch of the toast and spice of the sausage amazed me.  I did not leave a morsel on the plate. It is no wonder that this Chef is highly regarded and has won many food competitions.
As if the day couldn't get any better or tastier, the next stop was located in one of the highest points in Santorini with incredible views in every direction, Pyrgos. There we visited Selene, considered to be the best restaurant in all of Greece.  Entering the elegant dining room with its arched ceiling and stunning glass chandeliers, I was met by the Manager, Georgia Tsara and the Executive Chef, Thodoris Papanikolaous. The Chef explained that he had a unique dish he wanted me to try: Scorpionfish.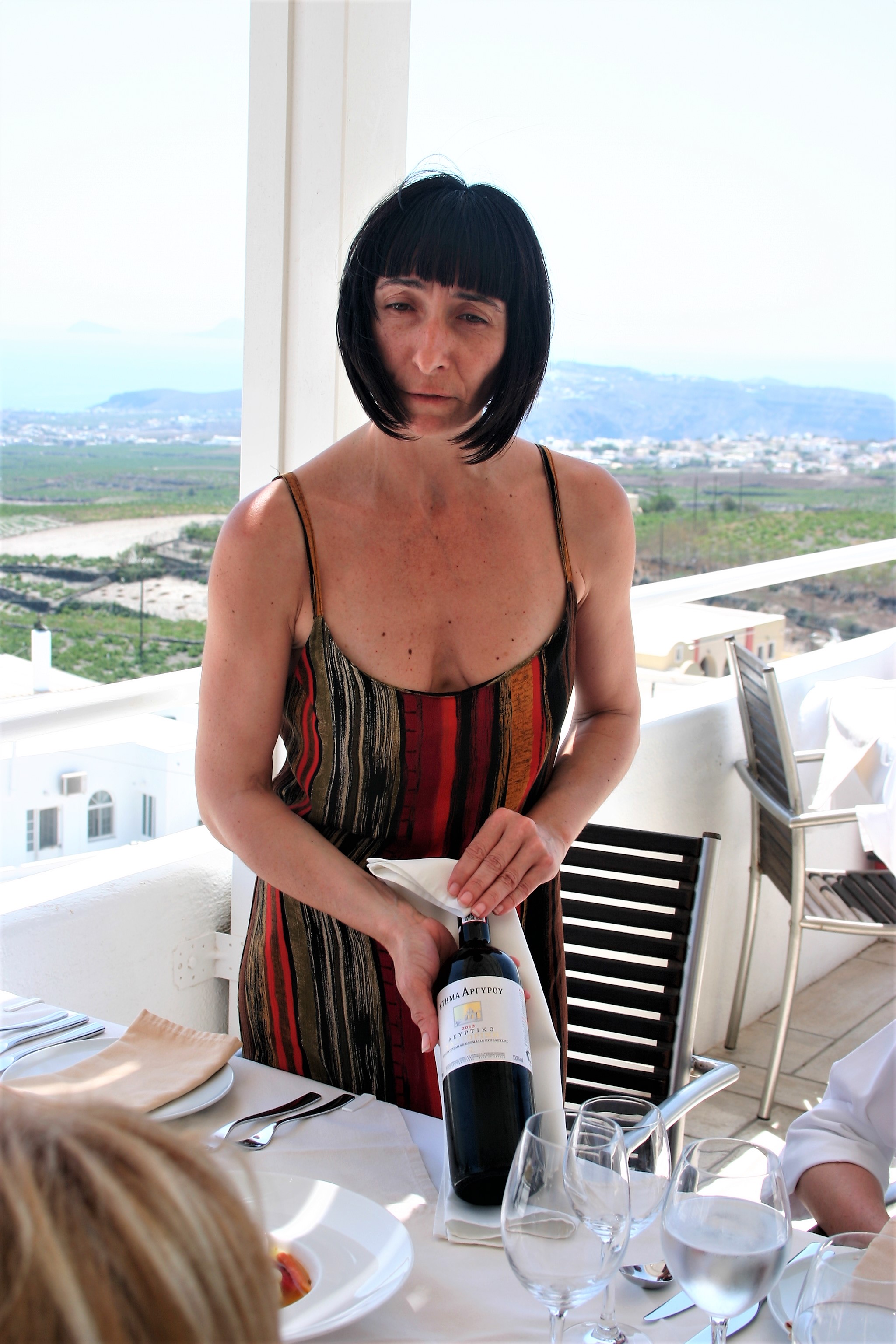 Both Georgia and the Chef joined me as I dug into this pretty dish, composed of homemade tortellini stuffed with lobster and fava beans, scorpion fish in a fish soup sauce, clam. saffron, onions and carrots. I was intrigued and eager to try this as I had no idea what scorpion fish would taste like. The fish was moist and flaky and mixed with the other flavors was quite delicious. Georgia paired a crisp Assyrtiko wine with this and the two of them joined me in a toast.  A truly beautiful location and food to match.
Knowing we had to get back to that cable car and then tender to our ship we reluctantly had to say goodbye and leave this very remarkable and special place.