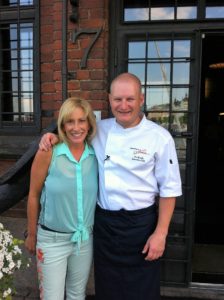 Helsinki isn't known for its dining, but it should be. I had some of the best food of our entire Baltic trip in Finland. Our first stop was a food market where I sampled cured reindeer meat on fresh local bread – delicious. Shortly thereafter we walked down the town's main thoroughfare, Esplandi (or "Espa" to the locals), and found picnickers and music playing along the entire stroll.
Nearer to the commercial center we came upon upscale retail shops and arrived at a wonderful gastronomic experience at Ravintola Nokka. This magnificent restaurant on the waterfront had the freshest seafood! We had a blast in the cooking studio with fantastic Chef Ari Ruoho, which we discussed over a delicious glass of Austrian white wine.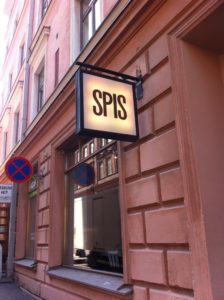 Soon after it was off to Cafe Engel for lunch and fantastic views of Senate Square, which also hosted a dessert vendor with 2 local ice cream favorites – tar & licorice. Both crazy and amazingly good! We stopped off for a quick peek at the Hietalahti Market and are blown away by the number of food stalls inside, all serving delicious local delicacies. We opted to try some of the dense local rye bread and were approached by a shop serving cured meat…who promptly added a sliver of cured reindeer meat onto our bread. I have to say, it was delicious and not gamy at all.
We Our other fabulous restaurant visit was to Spis, a tiny, modern and truly Nordic restaurant with unbelievably unique and interesting dishes, although mostly vegetarian. Chef Jaakko Kinnunen whipped up an incredible dish with quail egg and false morel mushrooms (my director, Johnny Tsang, gobbled that one up!) Our day ended with an elevator ride up to the top floor of the Sokos Hotel Torni, a boutique hotel whose bar Ateljee provided a terrific birds eye view of the city. I would definitely return to Helsinki especially for the food.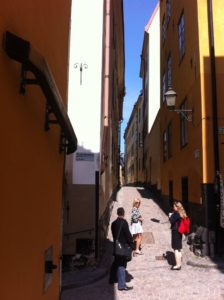 We arrive in Stockholm on Swedish National Day, a holiday celebrated every year since the 1890's, and are greeted by our travel guide, Natalie O'Sullivan from Our Way Tours. As we begin our day, everywhere we visit is filled with family picnics, live music and even an appearance by the King & Queen at one plaza! We started our day at the world's oldest Open Air Museum, Skansen, where patrons can walk through a history of Sweden's farmsteads and agrarian life. And of course its food: traditional breads and cakes are made onsite at Grillska Huset (I loved the Cinnamon Buns!).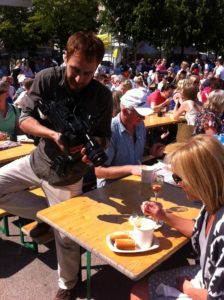 We also took a ferry over to Stockholm's old town, Gamla Stan, where cobblestone streets and alleys meander through buildings dating back to the 1700's. The most famous building is The Royal Palace, one of the largest in the world. Storteget is the main square of the region and my guide, Natalie and I lunched and chatted at a local restaurant there whose proceeds go to the homeless. Soon after, it was off to the center of Stockholm where a special 5 day food festival was taking place, Taste of Stockholm. Here I tasted moose and reindeer in a kebab, delicious fish soup, another fabulous seafood dish (whose name I can't remember), all washed down with a glass of Taittinger rose bubbly. The festival trip finished with a stop at a booth that was showcasing food served at schools these days. Wow, the salmon and veggies served to children looked fantastic….almost made me want to go back to school. It was an exhausting day walking around the festival but was a fabulous way to get a taste of Stockholm.
Cruise and dinner provided by Holland America and their Tamarind Restaurant.