Before arriving in Halifax, I had read that this small port city was filled with interesting ghost stories and I was looking forward to hearing some of them. Sadly, this city endured quite a few disasters with the Halifax Explosion still being the biggest man-made explosion of all time (a munitions ship collided with another ship and the resulting blast devastated the entire north end of the city). But that more about that in a minute, because my first visit was to a brewery, this time, Alexander Keith's, one of the oldest breweries in Canada that dates back to 1820. As a change of pace from other breweries, here actors in period costume and character bring you back to Alexander Keith's time to learn about him, the history and the beer. It was a memorable experience led by the lovely Artistic Director, Jeannette White, who completely understood how to change things up for us and the cameras.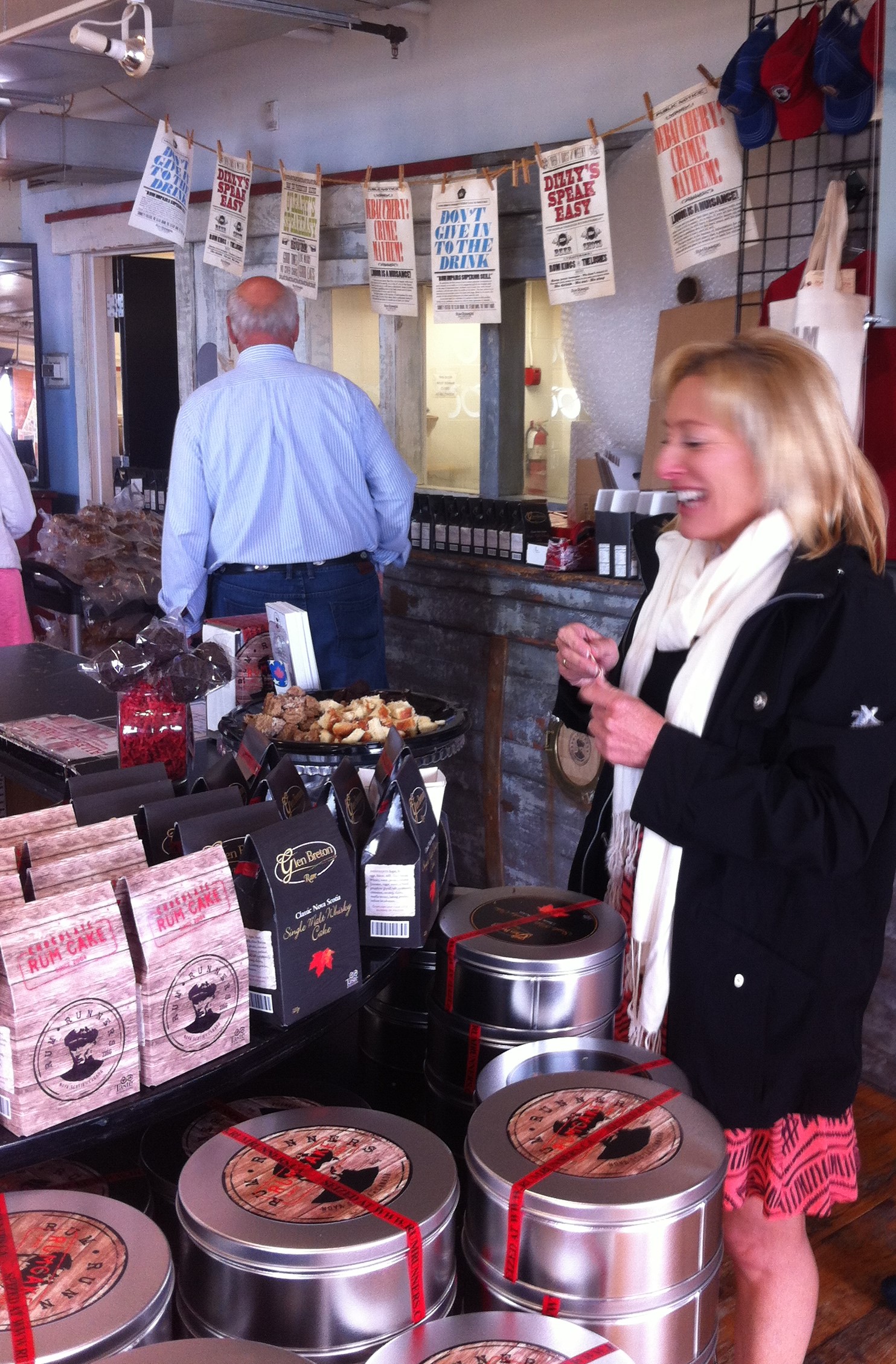 A short walk around the harbor area and I found myself in a Rum cake factory, something I thought I would only see in the Caribbean. I had to taste the samples, especially a whisky cake there that is made with locally distilled single malt whisky. It was then off to a place I was really excited to hear more about called Economy Shoe Shop. I bet you think I am off to shop, but no, this is a bar/restaurant that was started years ago by owner Victor Syperek who was tired of entertaining friends at his home and wanted another place to gather. For a while, there was no name as he had no idea what to call it. But soon, his friend suggested he use this old sign that he had picked up from his friend's basement, and that was the metal Economy Shoe Shop sign. The name has stuck and it's now the hangout people call "The Shoe." Besides their very popular nachos (my director Johnny could not get enough of them), I devoured fabulous salmon and seafood chowder, and their unique Caesar salad made with a blue cheese vinaigrette that uses Nova Scotia local Dragon's Breath Blue Cheese, a light, slightly spicy and delicious blue cheese varietal.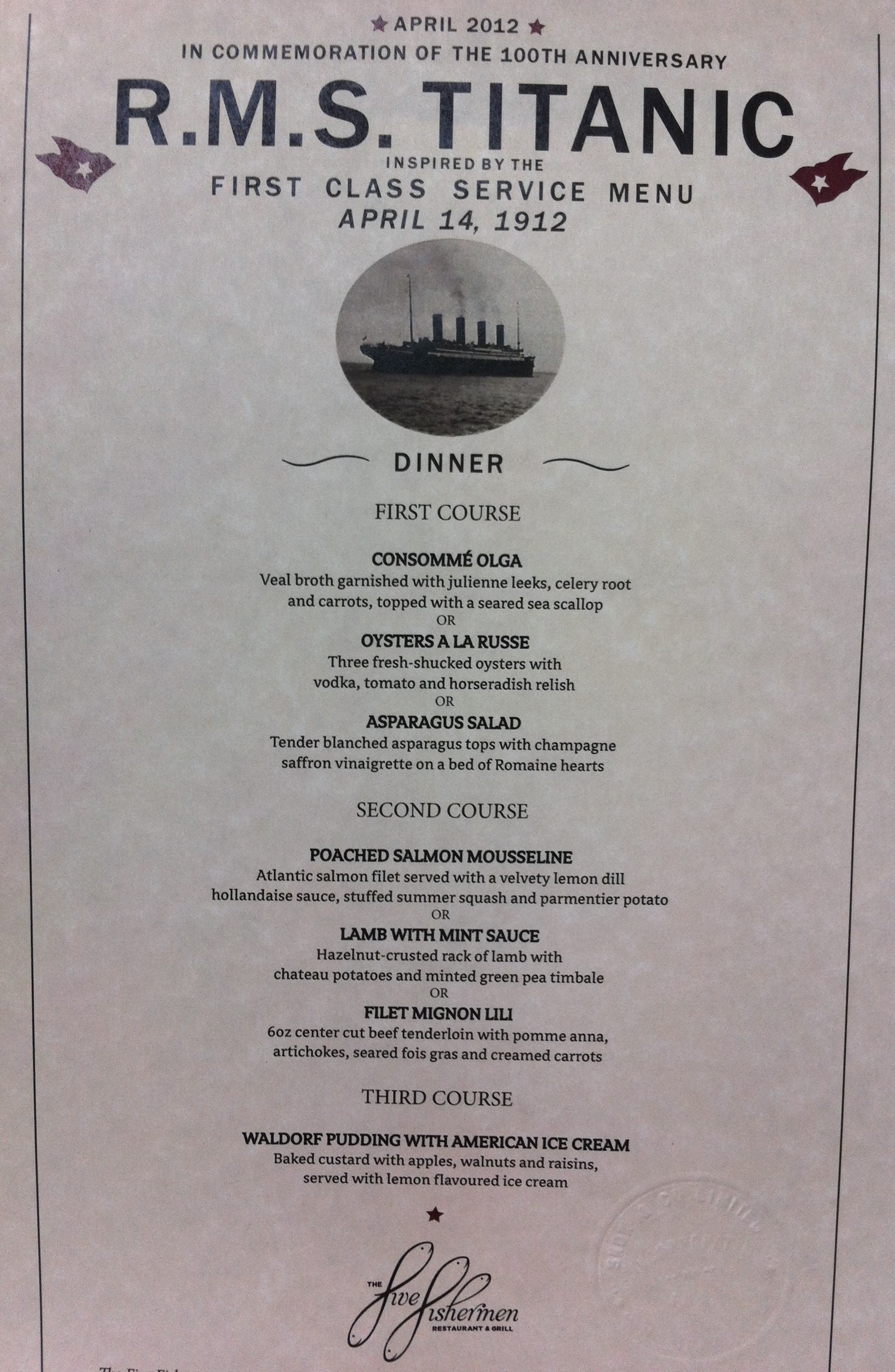 By now I was getting ready for those ghost stories I mentioned earlier, and expected the best of them to come from the next location, The Five Fisherman Restaurant. Originally built as a school in 1817, it then became the Victorian School of Art until it was taken over by the Snow family and turned into a funeral home. This was where many of the wealthier victims of the Titanic were brought so proper arrangements could be made. This is also where many victims of the Halifax explosion were taken and so, it's easy to understand why stories of hauntings emerged. It was taken over and refurbished into The Five Fisherman restaurant in 1975 becoming an upscale and elegant seafood restaurant.
I was excited that before sitting down to chat with General Manager Sean Neil, I was invited into the kitchen with Chef Jeff McInnis while he cooked up his signature dish, The Five Fish, a combination of sautéed colossal scallops and shrimp, pan seared halibut and Atlantic salmon with lobster, champagne and asparagus risotto, vanilla scented braised fennel and lemon butter cream. He made the preparation look so simple. The restaurant's Sommelier chose a Nova Scotian Chardonnay for me to sip along with the dish and I did so, as Sean told me stories that I had been waiting to hear. Glasses falling, silverware moving, feeling someone around you or hearing someone call your name – it all happens here. He had nights where he would be the only one at the restaurant and yet hear the hand dryer in the bathroom start up. It seems most things happen when the restaurant isn't open but one night a hostess seating a couple felt a brush against her face and a few minutes later there was a hand print on her face as if she were slapped.
Our final stop was to get some beautiful shots of the city from on top of Citadel Hill, a National Historic site, also known as Fort George. You can tour the fortress here and learn about the history of the fort and the area but would need more time than we had and since it was a close call getting back to the ship on time in Sydney, we decided to stay on the Captain's good side and return a bit earlier this time.
After 10 days in the Baltics and the past week in Canada it was time to get back to the good old U.S.A. in Bar Harbor, Maine. This is a place I have always wanted to visit as it has been on many people's must see places for its beauty, scenery and of course, seafood. The morning started off rather gray and cool but even so, the place truly is stunning.
We have 2 vans today to take us around (good thing with the impending rain) and head over to the Fiore Artisan Oils and Vinegars. Owner Nancy O'Brien. who received the Woman-Owned Small Business of the Year award for Fiore, gave me a wonderful lesson on the purity of olive oils and a tasting of some exquisite unfiltered extra virgin ones along with an 18 year old and a 25 year old aged balsamic vinegar. The tasting method for the oils is similar to tasting wine since you need to allow the flavors to develop by swirling a bit in your mouth before swallowing. Once you taste these you just can never buy supermarket oils and vinegars again.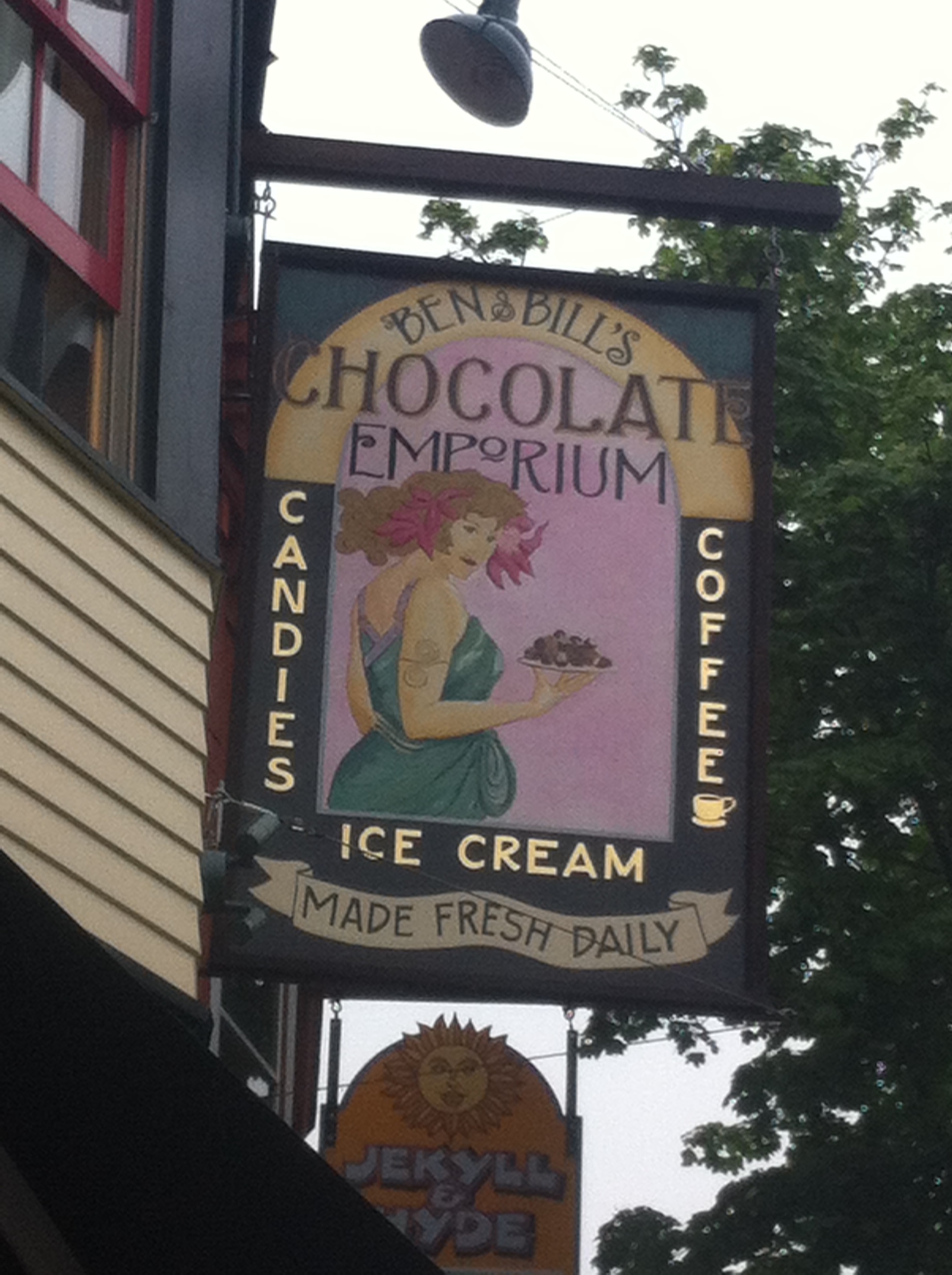 I just had to stop at Ben & Bill's Chocolate Emporium as I heard they actually serve Lobster ice cream. Being in Maine, you might expect something like this and after trying tar ice cream in Finland, I figured I might as well go for it. So, how was it? Strange is all I can say. I mean it is basically creamy, buttery vanilla ice cream with chunks of yummy lobster mixed in it. It wasn't great but it wasn't terrible either. I suppose it's one of those things you just try once. It was nice to be given some homemade fudge for the crew when I left.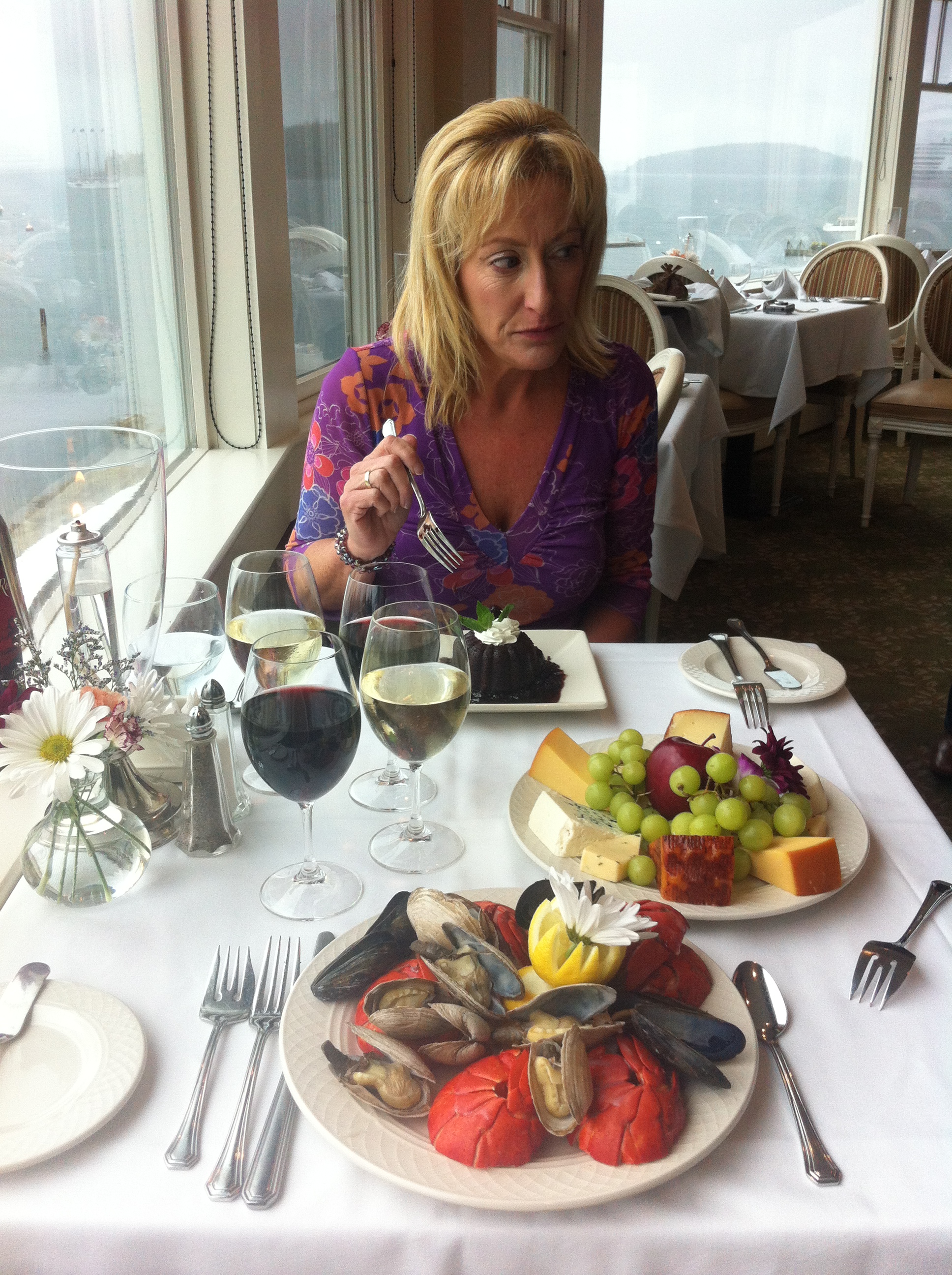 Now it was time for a delicious meal at the Reading Room Restaurant at the Bar Harbor Inn where Chef Lou Kiefer was actually preparing for 2 weddings later in the day but still took the time to cook and share some wine and stories with me. Sitting in the gorgeous and elegant dining room overlooking the ocean at Frenchman's Bay, I indulged in his special Ginger Seared Diver Scallops with Smoked Baby Maine Shrimp over pappardelle followed by tastes of an incredible flour-less chocolate torte, blueberry pie and Grand Marnier creme brulee. The Chef was disappointed that he couldn't show me his special herb garden (since the rain chose not to hold off) but he described his passion for always seeking to perfect his dishes with the freshest ingredients possible. His excitement and enjoyment for what he does is clearly apparent in his attitude and in his food and what a privilege it was to meet him. As if this wasn't enough, my whole crew and I were invited to stay for lunch.
Although it was raining, a trip to Bar Harbor would not be complete without at least a short drive through Acadia National Park. And, since my trips are all about food, I had to stop at the only restaurant in the park, The Jordan Pond House Restaurant famous for its homemade popovers. Popovers are made out of a batter and baked into a puffy, eggy, light and crispy type of roll. If you have ever seen or tasted Yorkshire pudding, that is what they most resemble. Here they are served with jam and butter and are best straight out of the oven, piping hot and still steaming. I can't even imagine how many popovers they bake every day. This is on top of everything else they make including lobster stew that is creamy, buttery and filled with big chunks of lobster meat. It's just too bad I wasn't able to sit outside on the lawn overlooking the pond and mountains. I was told is a must do when the weather is nice and so is a good reason to return.