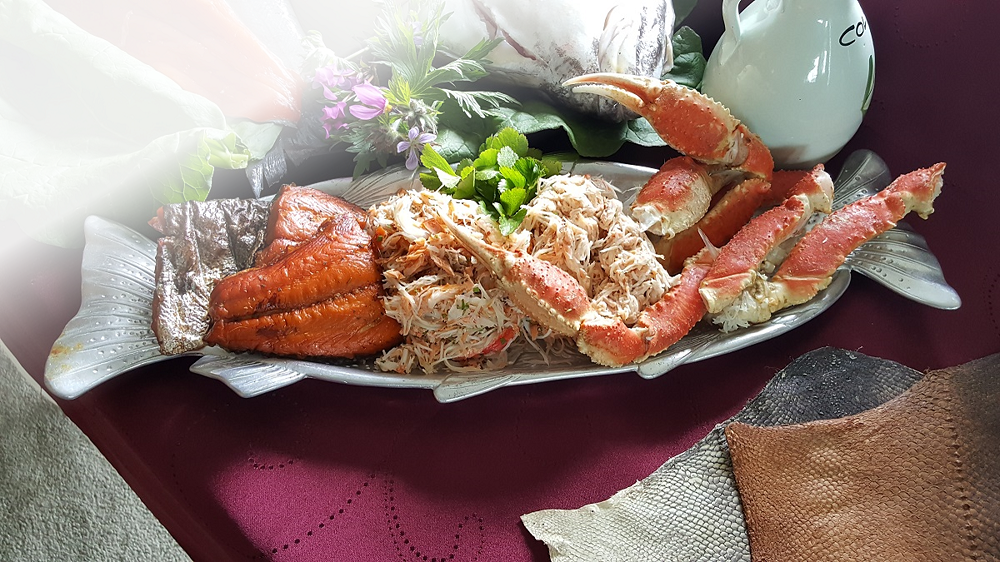 I have a friend who visited Homer many years ago and told me it was his favorite place in Alaska, so I was really looking forward to this next port of call.
Before checking out the town though, I made arrangements to visit the Tutka Bay Lodge, a family owned 11 acre wilderness retreat a 25 minute boat ride across the Kachemak Bay. I am greeted by the property's naturist, Karyn, and the Chef of their restaurant and cooking school, Charles. They both were carrying baskets that they said we would be filling with greens and other goodies the three of us would be searching for around the property. I was excited about the idea of foraging for our food and I followed them down through trees and woods to the beach. There we picked various odd-looking greens and seaweed they said would be delicious in the upcoming dish.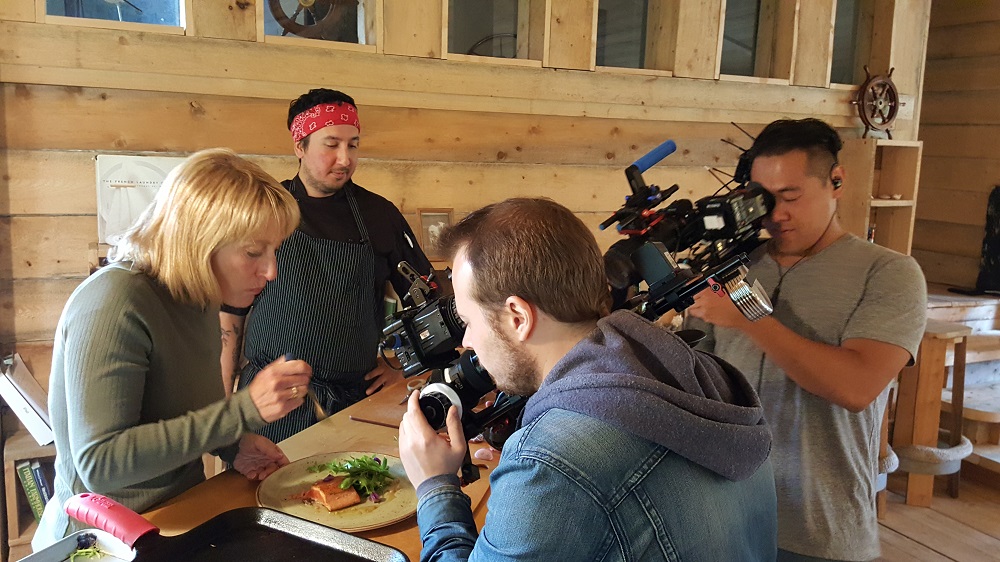 We head back to the cooking school located inside a repurposed crabbing boat they call the "Widgeon." I help Chef Charles prepare a wonderful seared sockeye salmon with a small salad of the greens we just picked and a light "fireweed" vinaigrette dressing. It's simple, tasty and super fresh.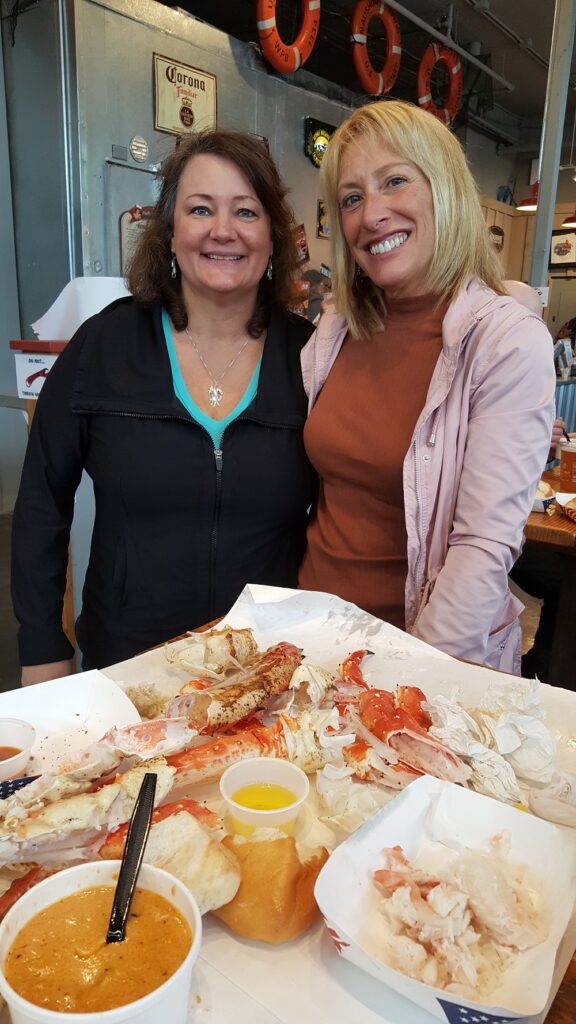 Back in Homer we head to the Spit, a 4.5 mile peninsula jutting out into the ocean. This is where most of the town's restaurants, cafes and shops are located. I meet owner Mandy Dixon at her popular La Baleine Café. Mandy feeds many of the local fishermen when they return from their mornings out and so she creates incredibly hearty and filling foods. I am given a surprising ramen bowl with local sockeye salmon and homemade ramen noodles that is simply divine. It's full of local greens and tons of flavor. She also makes a crab melt with snow crab, avocado, tomato, caramelized leeks and onions that melts in the mouth. Her restaurant is a local gem and her cooking is just superb!
On the way to my next stop, I notice a sign for the Homer Brewing Company. How surprising to find out this small town has their own beer producer, so of course I have to try it. The owner Stephen is there to guide me through a flight of his many tasty beers and ales that are all unfiltered and non-pasteurized. I particularly liked the Red Knot Scottish ale that is smooth and not too bitter (and find out it's their most popular style).
Although I don't have a lot of time left at this port I was invited to the Homer Stay & Play, a bed & breakfast in a gorgeous area overlooking the bay, mountains and glaciers. The owner, Anna, is eager to show me the place and the kitchen is set up for us to cook something together. We prepare a tasty purple potato snack that she makes with locally sourced ingredients including goat cheese from the local farmers market. It was a very quick stop but I'm glad we were able to fit it in. I finished the day feeling satisfied and agree that Homer is a very special place.
Kodiak is my final stop in Alaska, and with only 4 hours to spend there I am not sure what to expect. But I have a wonderful chef as my guide and know I will eat least eat well!
Chef Joel is originally from France and moved to Kodiak 17 years ago after a 3 week visit that made him fall in love with the place. He tells me that the people are so friendly and that he felt at home immediately. I encounter some of this hospitality at his local café called Monk's Rock where many of the neighbors meet to catch up and mingle. Besides the delicious coffee and sandwiches (I had an awesome Reuben), we were spontaneously serenaded by a group of the young staff members.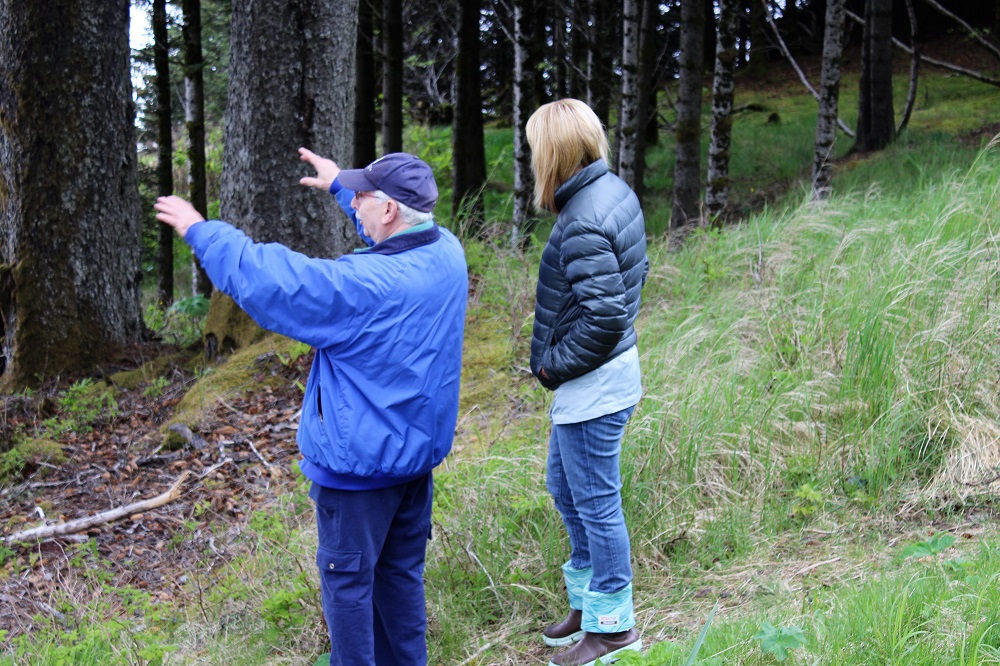 While driving around and showing me a bit of the city, Joel tells me that he has fresh sockeye salmon and halibut caught by a friend who flew it over to him the day before, and that we would go back to his house to cook it up. But first, he needed some ingredients. Rather than heading to the store we stop at his friend's house where he walks me through her garden picking various lettuces and herbs. This is where he gets most of his vegetables and hardly ever needs to go to a store.
From there we drive down to the beach and pick more greens to be used in his special soup and sauce, then on our way home pull over to the side of the road and head into the woods to pick EVEN MORE dandelion greens, fiddlehead ferns and some wild parsley. Alaska is for foragers!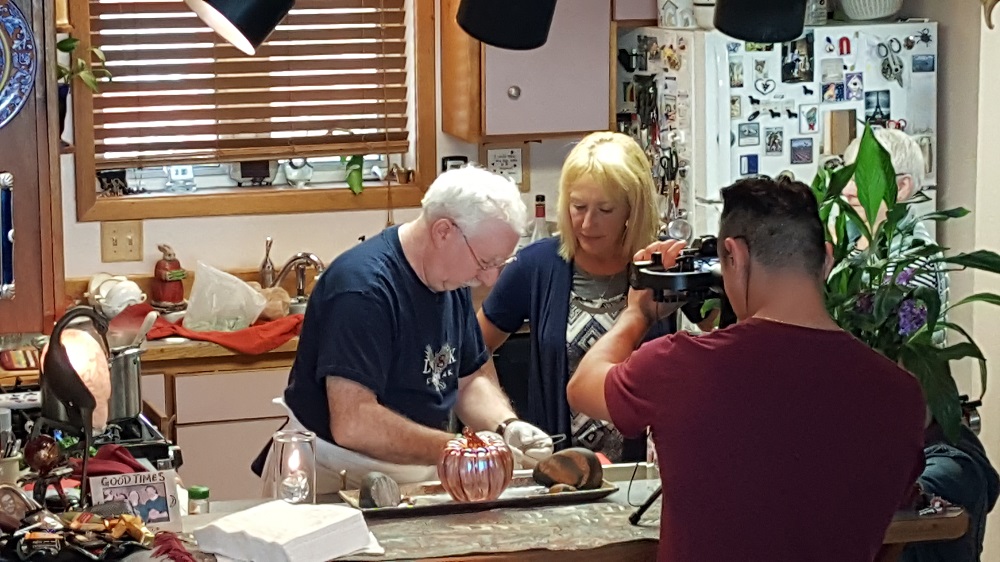 We arrive back at Joel's house with our haul and I meet his charming wife, Martine. She has a table full of scones and muffins and a huge assortment of tea to serve before Joel and I get started in the kitchen.
Joel begins the soup by sautéing corn and bacon and adding homemade fish stock he made from the salmon bones. He adds the beach greens and lets it cook. Next, he makes a sauce from the dandelion, fiddleheads, and wild parsley. He blends this with a little olive oil and a unique secret ingredient, seal oil. I was a bit taken aback when I heard this, but it tastes nice. Slightly pungent but not that different from olive oil.
The sauce is for Joel's amazing halibut dish. He takes a clay pot that he fills with sea water and then places very hot rocks into the pot to heat the water. Next, he places a few filets of the halibut in the pot to poach. This old world way of cooking is super healthy and the fish cooks perfectly in the water with no need to add any additional salt. It doesn't take long to cook this way either.
Having quite a bit of the fresh halibut remaining besides what we cooked, Chef Joel was hoping we could bring it back on the ship with us. I don't think they would let us but Joel insists on taking the fish on a tray and coming with us to the port. Needless to say, the fish did not pass through security although later when I told the Executive Chef what happened he said he would have loved to have fresh halibut to cook onboard. I guess we need to make advance plans for that sort of thing.