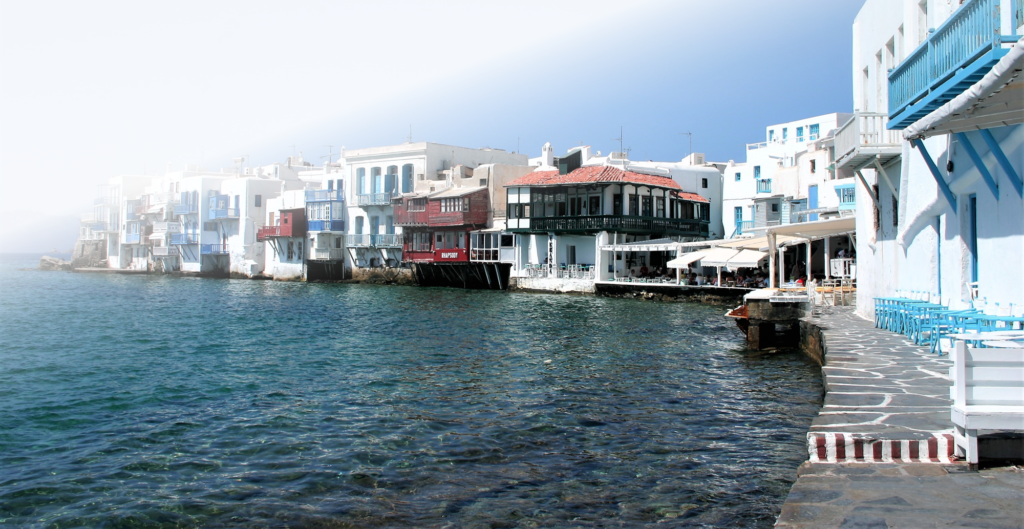 Visiting Athens in the height of summer was not exactly ideal timing for us. Generally speaking many places are closed down during the hottest months so that people can leave town to travel or visit cooler climates.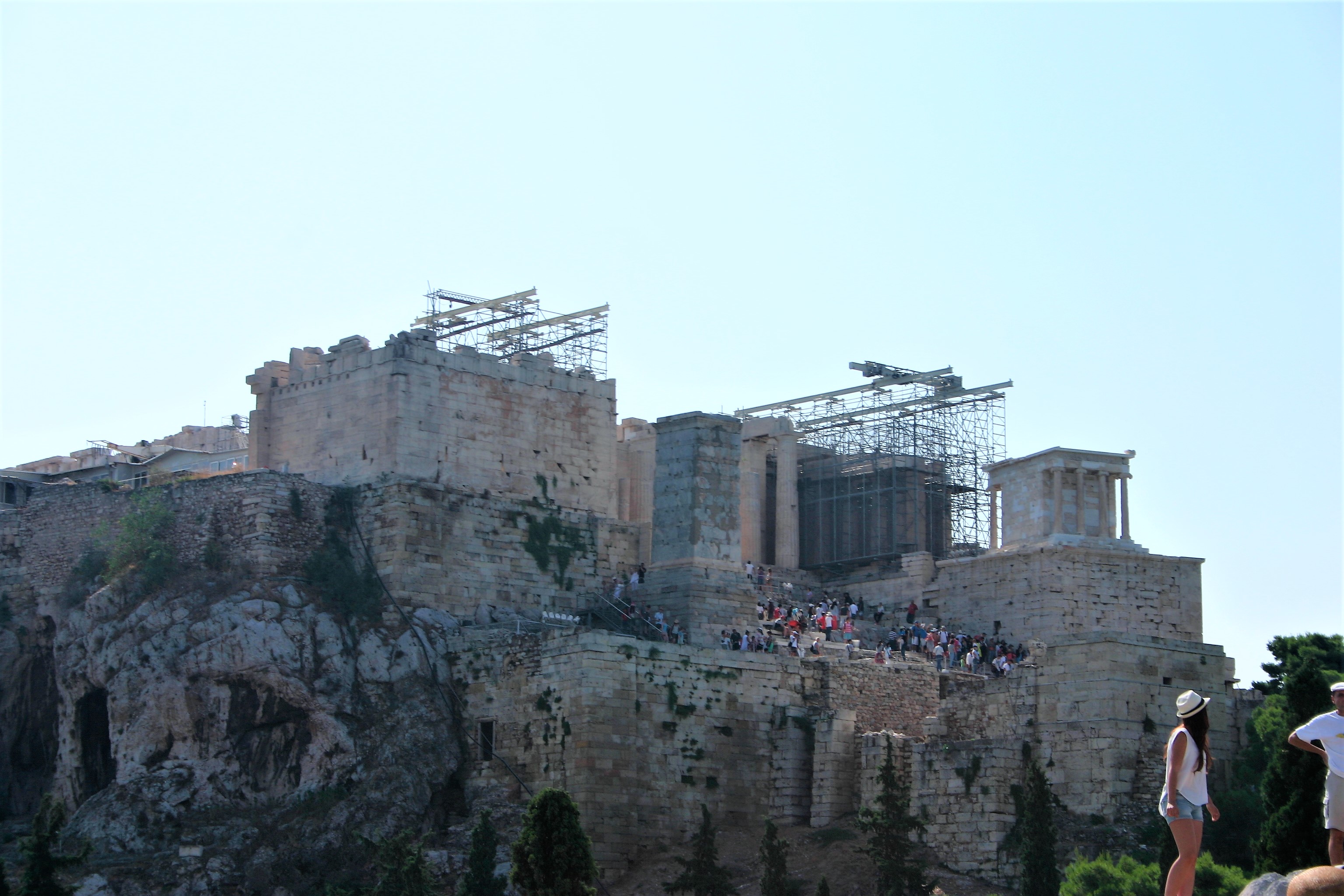 We were fortunate to know Despina Souvidou of Athens Walking Tours who enthusiastically created a great itinerary of culinary activities for us. While Despina is an avid historian with extensive knowledge to impart, she quickly understood that we were there for the food and culture and built a custom plan for us. However, even foodies like us know that there is no way you can be in Athens and not at least view the Acropolis, one the most recognized and important monuments in the world. We climbed up to a lookout point where we could see the ancient buildings of the acropolis and the magnificent new world city below us
Our first stop was to the oldest bakery in Athens, Afoi Asimakopouloi, established over 100 years ago and now run by the family's 4th generation of children. The owner brought us up to the factory area where we watched how he prepared icings for their cakes and an incredible Lebanese dessert. Of course, lots of tastes were handed out. This is definitely a haven for sweet tooths. Before leaving, I was shown the popular Tsoureki (sweet Easter bread), a braided bread traditionally stuffed with a dyed red Easter egg. A loaf was given to me as we left as well – Greek hospitality! 
Despina next drove us to an upscale neighborhood and an ultra-modern restaurant called Nice n' Easy. Inspired by Frank Sinatra's song of the same name, the aim is to evoke a glamorous era when life was simple but stylish. Here they have quality food with an emphasis on organic, local and fair trade ingredients. The chef on duty. Eva Zotou, prepared a fantastic sea bass with a potato and horseradish puree called the "Elvis Presley" because it's both sweet and hot.  It was simple, yet delicate and full flavor and very special.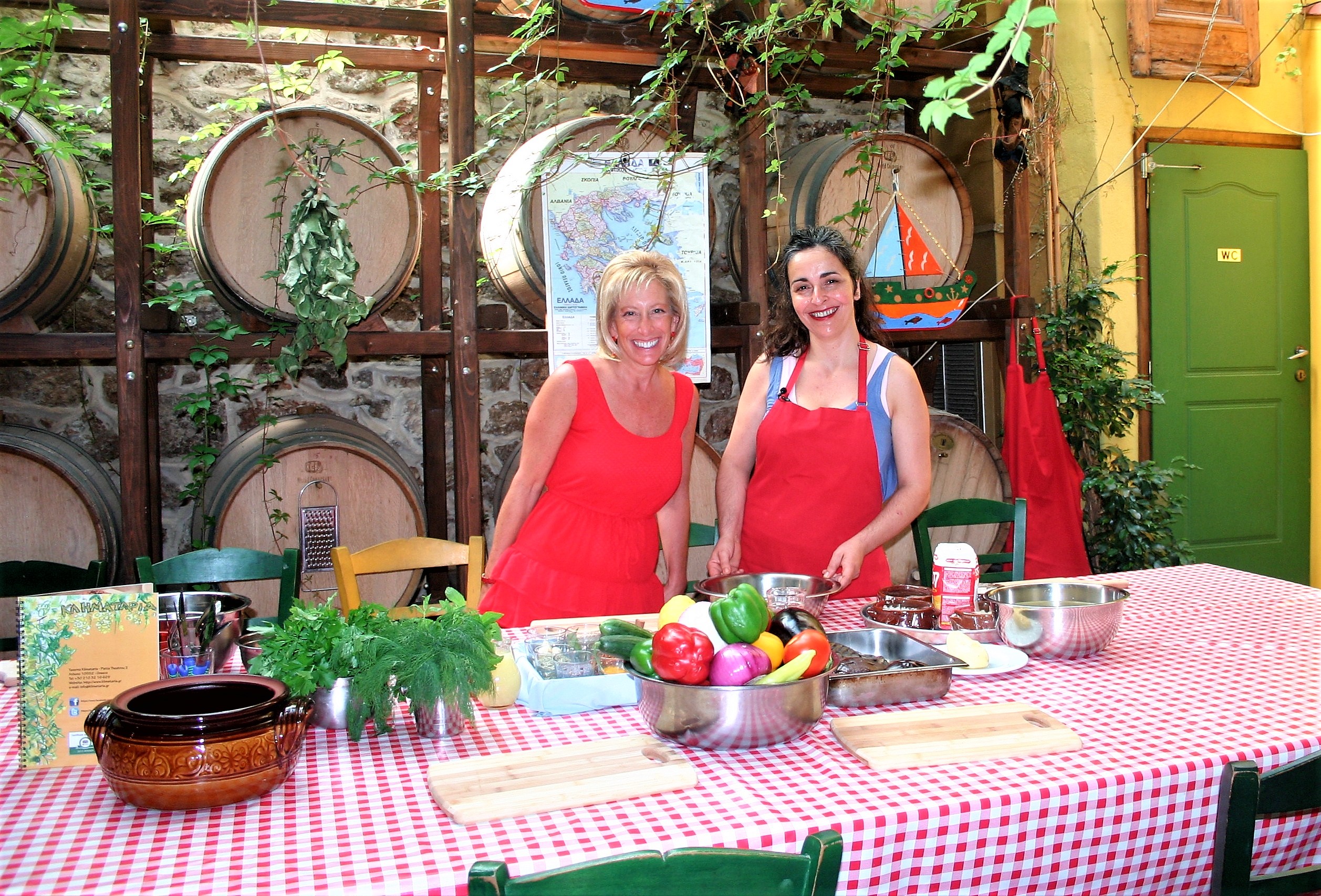 Our last visit was to Taverna Klimataria restaurant, a traditional 125 year old Greek taverna in the middle of a slightly dodgy looking neighborhood. With graffiti on the walls outside we didn't know what to expect, but when we were greeted by the smiling owner and chef, Maria Sotou, we knew everything was going to be great. The restaurant was charming and featured herb plants, flowers and wine barrels to decorate the space.  A perfect spot for Maria's cooking demonstration. She started by making "easy pastries", taking her time to prepare each one with eggplant, feta cheese, salt, sugar, nutmeg…and Sheep's butter!
She then showed us her process of preparing lamb in a unique pot called a "gastra", an iron baking dish with a cast iron lid that cooks over hot embers on an outdoor oven. The lamb was rubbed with fresh oregano, sage and stuffed with garlic cloves, a bit of wine and potatoes added on top. The lamb cooks for 2 hours and exudes the most amazing aromas and when I got to cut and taste it, the meat was so moist and succulent. Maria and I were enjoying the time talking and tasting that I think she forgot about the cameras. She was so hospitable and friendly and when we left, gave me a gift of figs, ouzo, pistachios and mastika water – what a sweetheart. Mastika is a resin that comes from a mastic tree native to a certain area in the Mediterranean and liqours are produced from it. It has a licorice type flavor and the water was nicely refreshing.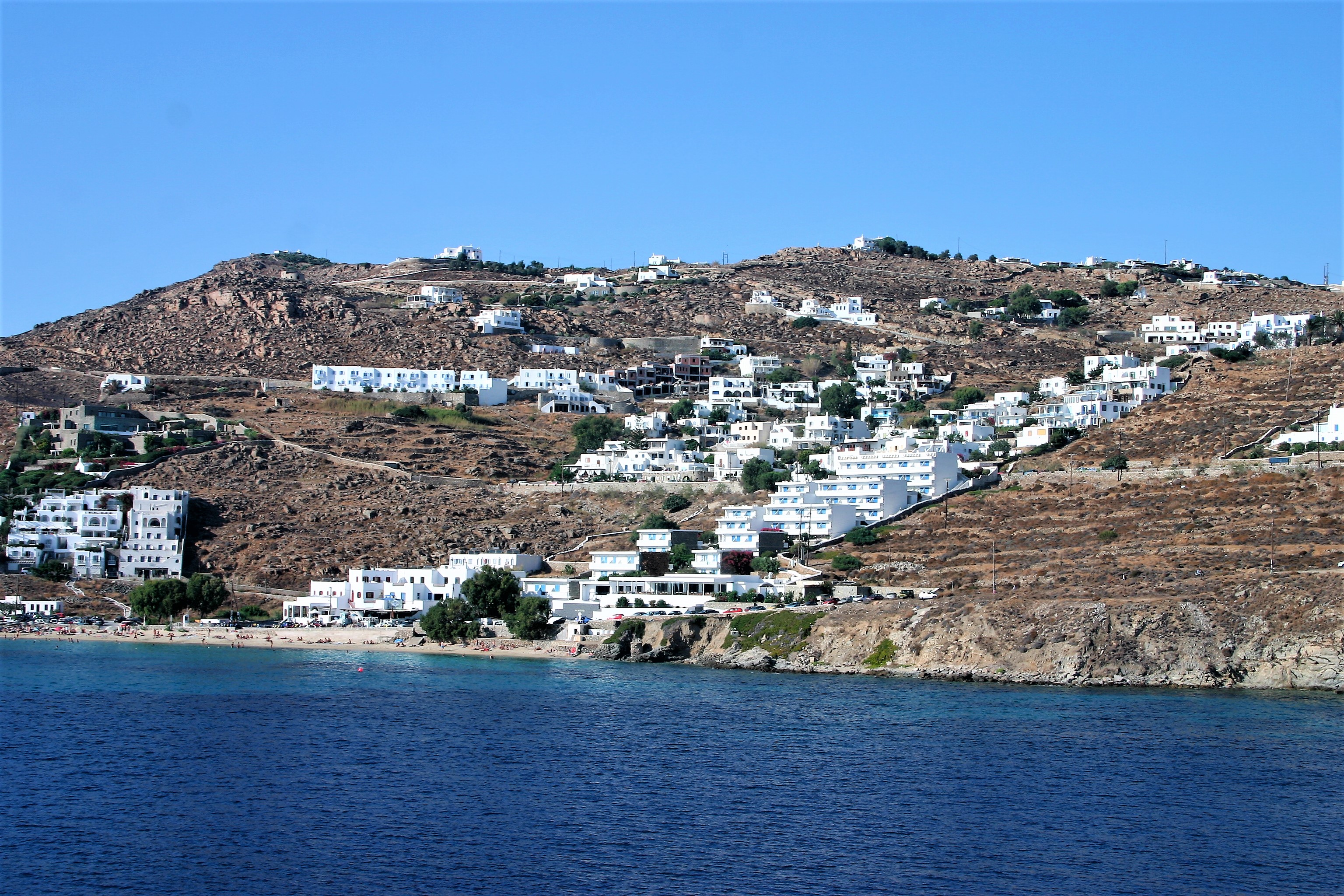 I hadn't been to Mykonos in years but as soon as our ship docked and I saw the whitewashed buildings of this picturesque island and many happy memories came flooding back to me. The narrow winding alleys with small shops, the fishermen along the waterfront and the infamous windmills that have been photographed who knows how many times. This time, however, I'd be focusing on the food with the help of my Mykonos guide and friend, Eleni Melirrytou. A native of Athens, Eleni always loved cooking having learned many of her skills from her aunt in a small village of Greece. Now she encourages others to learn and understand more about Greek cuisine by sharing her knowledge. She was here in Mykonos, where she has a home as well, and offered to show me some of her special places on the island.
After a short sea bus ride to Mykonos town, Eleni's son Orestis was waiting for us by a small farmer's market. He was visiting from the U.S. where he is an Assistant Sommelier at the popular Greek restaurant, Milos, in Miami. Needless to say, he and I had plenty to talk about. After buying some tomatoes and figs with Eleni for a dish we'd be preparing later in the day, Orestis brought me to a nearby wine shop where he picked out one of his favorite Greek whites, the Domaine Biblia Chora, white a blend of Assyrtiko and Sauvignon Blanc varietals.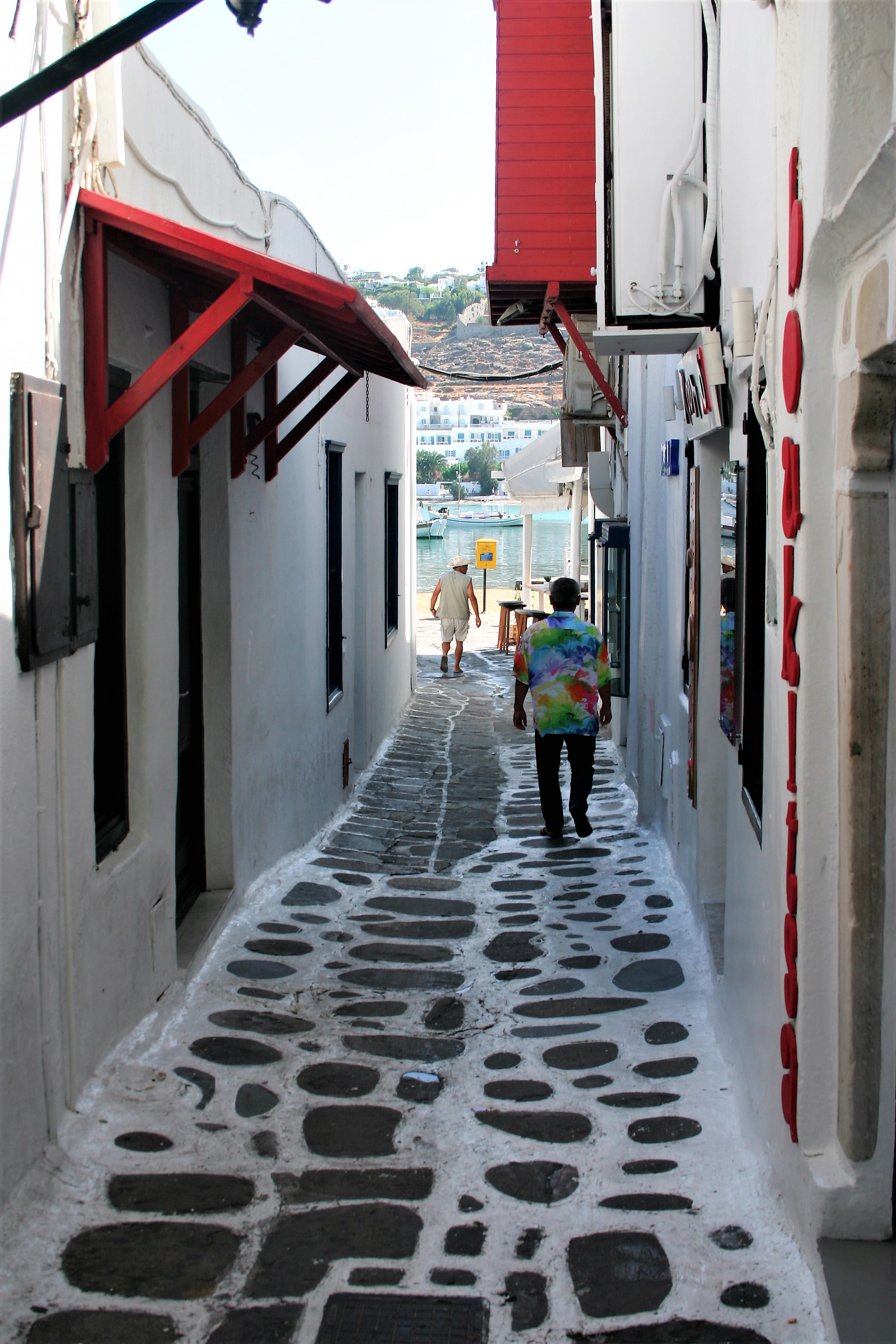 We walked through the quaint alleyways of the city and into a 500 year old bakery that still uses some of the original equipment that has outlasted the many generations that have worked here.  We were here to buy rusks – a twice baked bread made from barley & wheat. Rusks became important and popular due to their long shelf life (ie, 200 years ago you could take these on a multi-week voyage without a worry).  Eleni wanted to show me modern recipes using these hard biscuits. Before heading out, I was passed savory feta and spinach pastries and a newly baked bread that we watched them bake.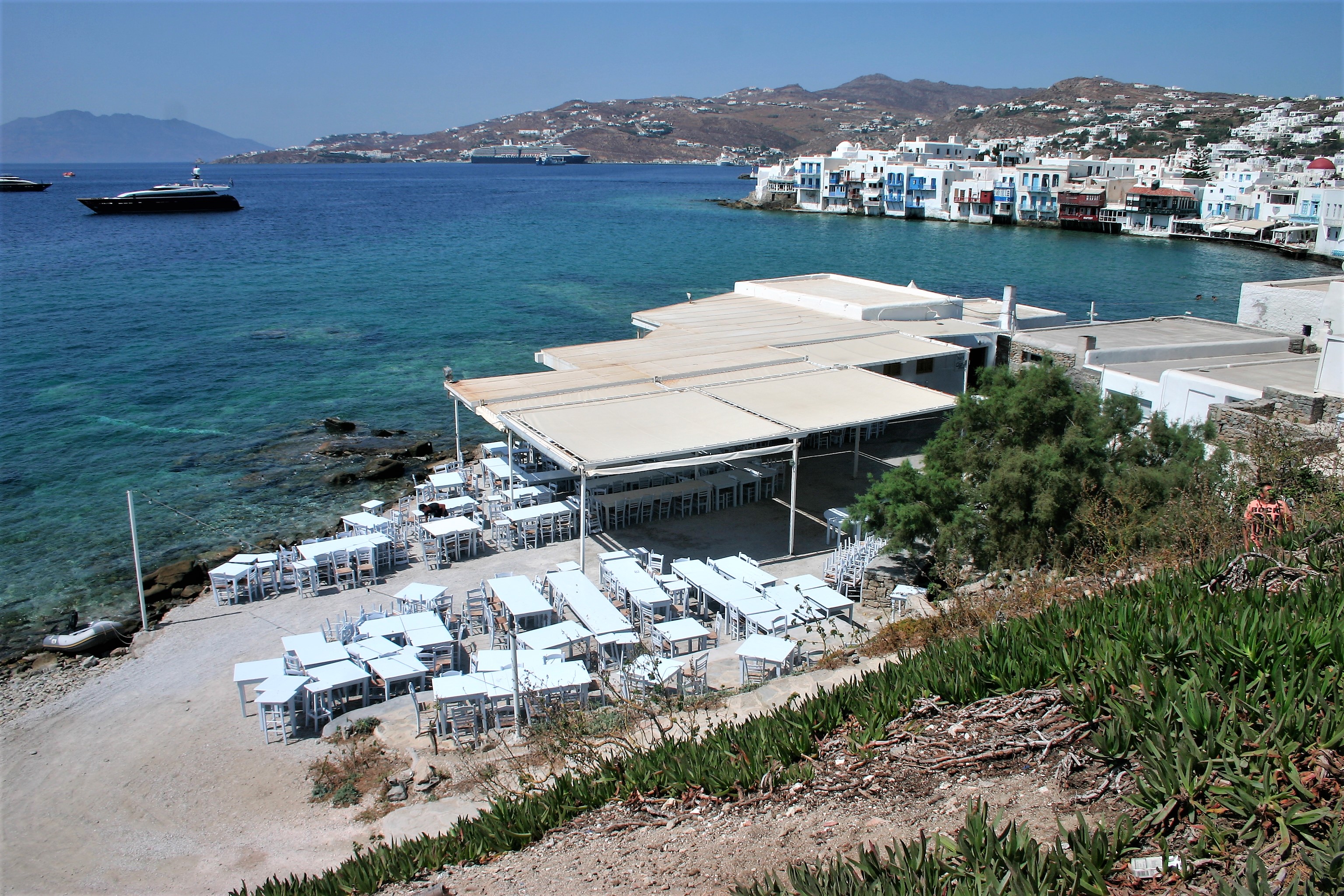 We headed to the busy beach town of Ornos and restaurant Kuzina, where the owner and chef Aris Tsanaklides was waiting to greet us. Having a restaurant in Athens that he closes for the summer, he opened this branch next to the popular Ammos Beach hotel. It's elegant waterfront setting is perfect for the Mediterranean Asian cuisine he prepares using traditional, local ingredients with a unique modern twist. The dish he shared with me was a spicy squid with ginger and chili, and a pasta dish with fresh tomatoes and herbs. He was very gracious with his time and spoke at length about his cooking inspirations – what a pleasure.
We next hopped into a van that Eleni had hired for the day and Orestis thankfully, navigated the snaking  drive up to a stunning spot overlooking a beautiful bay that was far away from tourists. We climbed down stony terrain to an old Fisherman's hut by the water where Eleni set up an outdoor table with our rusks, tomatoes, figs, cheeses, olive oils and wine. She sprinkled water on the rusks to moisten them up, and then spread a stinky soft goat cheese on them to create a mostra Then chopped tomatoes and herbs on a few and figs on the others, then a sprinkling of fresh olive oil, vinegar and capers to finish them off. We sat down by the water with an ice cold glass of wine, chatting, munching and drinking in paradise.
A funny aside to this leg of the trip.  Eleni actually wanted us to make one more culinary stop on the way back to our boat, and watch fresh fish being prepared in an outdoor oven at a taverna back in Mykonos town.  But as is sometimes the norm in Greece, the owner was in a heated discussion with his staff and couldn't be bothered to serve us food.  So instead, we left beautiful Mykonos with a full belly, new friends and a little "spice" (dram) after all.