I finally made it to Seattle, Washington. It's a city I've wanted to visit for a long time and so I was extremely happy to hear that my cruise to Alaska would begin and end there. My husband and I flew out a couple of days ahead of our trip so that we could adjust to the time difference and enjoy free time before we'd get down to filming.
We booked our room at the Inn at El Gaucho, a small hotel in the Belltown neighborhood so we wouldn't be very far from the cruise port. We arrived late on a Friday night and were surprised to see one locked glass door with the hotel name on it. This is the only entrance that leads up a staircase to the 2nd floor where the inn is actually located. Our bags were taken up in a freight elevator so we didn't have to haul those up that flight of stairs. The reception area "lobby" looked like a retro 1950's club with leather sofas and lots of wood. I really liked it and found it unexpectedly inviting. After a very easy check in, my starving husband and I were told we could head downstairs to their famous & elegant El Gaucho steakhouse where they served a happy hour menu until midnight. We had some amazing sticky ribs, an enormous lamb dish and a bottle of Gisele Pinot Noir. This was a great first night.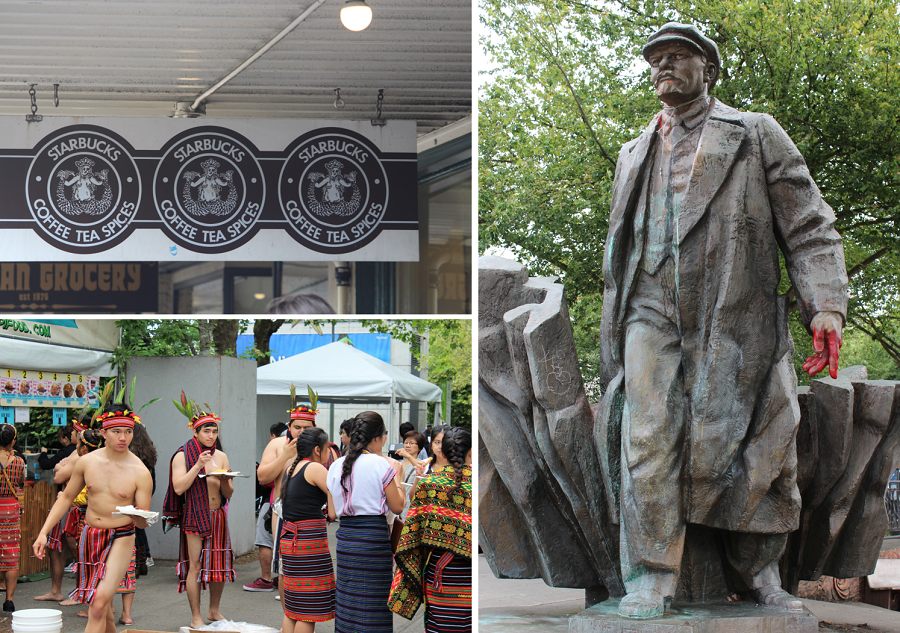 The next morning we woke up to sunshine and I was thrilled as I know how much it rains there. My husband and I decided to roam around and look for a place for breakfast. We saw a very crowded, so we presumed , a popular spot called CJ's Eatery. We managed to get a table after a short 10 minute wait. Filling up on amazing coffee ???? and smoked salmon Benedict, we were now ready to tackle this town.We spent most of the day just strolling up and down streets, seeing the Space Needle, wandering into a fun Filipino Festival and just enjoying the beautiful day. Then the cameras turned on.
The first stop was back at Aqua restaurant, where I was introduced to Chef Wesley Hood and the General Manager, Sivi. The Chef was ready to prepare one of his signature halibut dishes with morel, snow peas, asparagus, fiddlehead ferns and pearl onions with a rosemary lemon beurre blanc sauce. I followed him into the open kitchen where a very hot charcoal grill was fired up to cook the fish. He showed me his technique for flipping the fish gently, that I tried to duplicate but lost a small corner of fish in the process (Chef Wes kindly laughed it away).
We next sat down with Sivi and food and cold glasses of Sancerre in the gorgeous glass-walled dining room to talk about the restaurant, the food and the chef. Chef Wes worked his way up through many jobs before becoming a chef. He loved Aqua because he was able to use the freshest and seasonable ingredients in his cooking. Sivi enjoys doing events and is especially fond of the USO where the people there have become like family. One of her favorite comments from one of the elderly guests is" I come because you feed me food, but I really come because you feed my soul."
Back in the van, our friend and local tour guide, James, filled us in on the history of Pioneer Square, one of Seattle's most popular neighborhoods with an abundance of galleries, parks, restaurants and bars. We were on our way to one of those bars called The Good Bar owned by Josh and Nancy Kelly. Their concept was to serve classic cocktails, good selections of beer and wine, and delicious non-pretentious food in a cozy atmosphere. Nancy and I shared a few drinks and a messy but yummy Sloppy Joe, mussels as well as a charcuterie plate. She told me how the space was once a Japanese bank (the vault is still there.) It really was a good bar!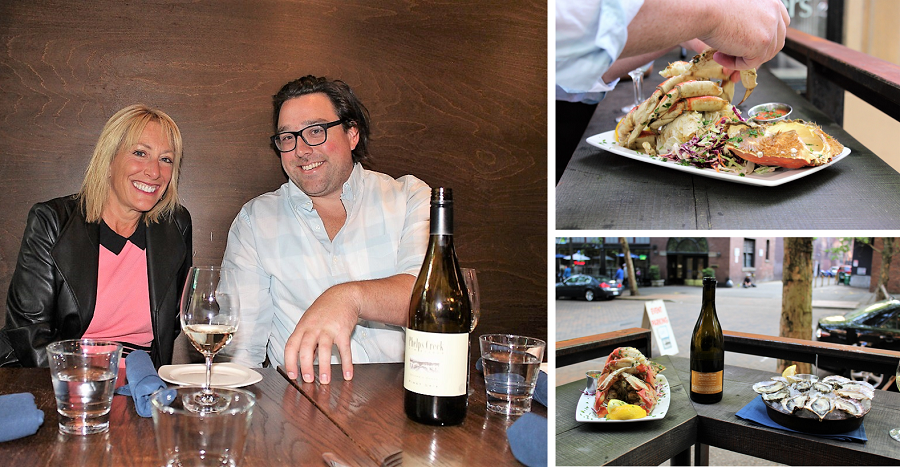 Time for oysters, and just around the corner we pop into Taylor Shellfish and Oyster Bar. This is a family owned and run business who have been farming shellfish since 1890 and continue to sustainably farm and serve the best of the Pacific Northwest. I was treated to a fabulous array of different oysters, dungeness crab and Seattle's famous geo duck, (pronounced gooey duck.) This very unique and large burrowing clam looks anything but appetizing, but once cooked up is one of the tastier clams I have ever eaten.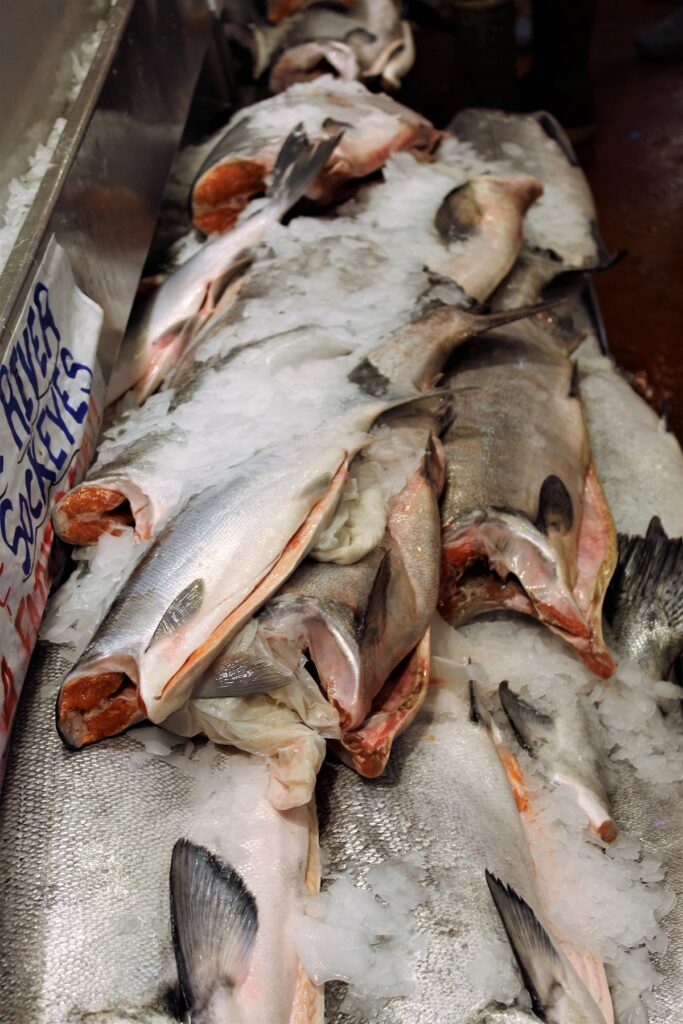 Although we had no planned places to film, we knew we wanted to see Pike Place Market. We have the owner of Show Me Seattle, Michael, take me on a tour of his favorite spots in the market. We saw the popular fishmongers and I got to catch (almost) the fish they threw, then sampled fabulous clam chowder and freshly smoked salmon. The frozen yogurt stop after that was not one of my favorites, but was refreshing nonetheless.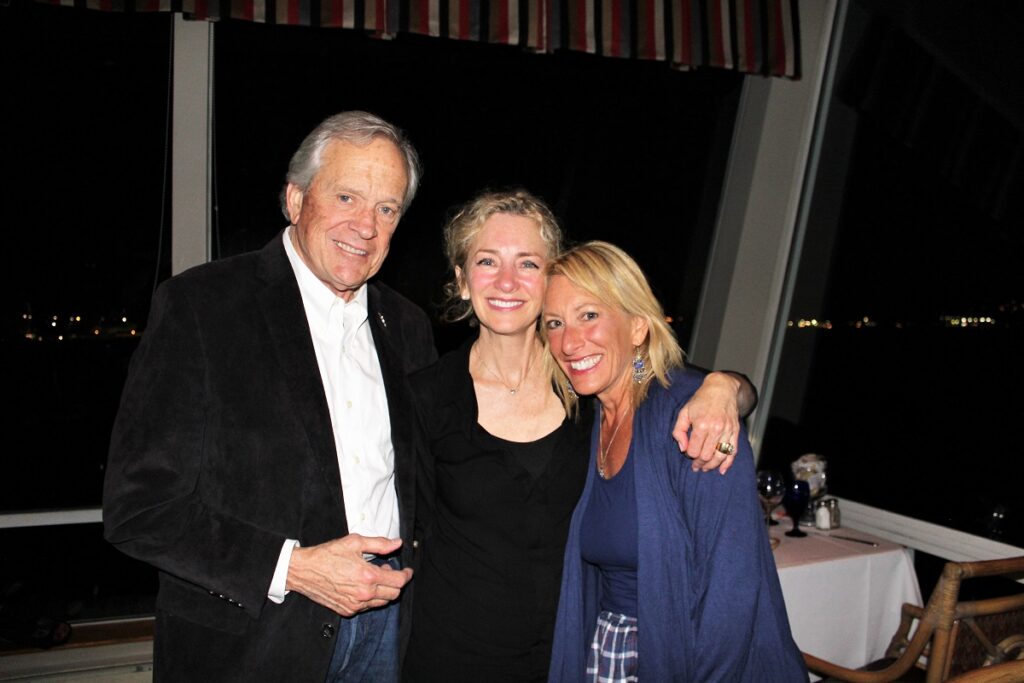 We finish the day in West Seattle's Alki Beach and the stunning Salty's Restaurant, situated on Elliott Bay with sweeping views of the Seattle city skyline. It was a surprise to find owners Gerry & Kathryn Kingen there to greet us and sit down to eat with me. After I helped Chef Jeremy whip up some tasty crab cakes, he filled our table with one delicious dish after another. There was seafood chowder, fried calamari, prawns, oysters, a tiered seafood platter with dungeness crab. Plus, I had a crisp glass of Viognier to wash it all down. This was a spectacular finish to the day.