Ketchikan is known to be one of the rainiest places in the US, getting 15 feet of rain per year. So waking up to sunshine and warm temperatures made me very happy.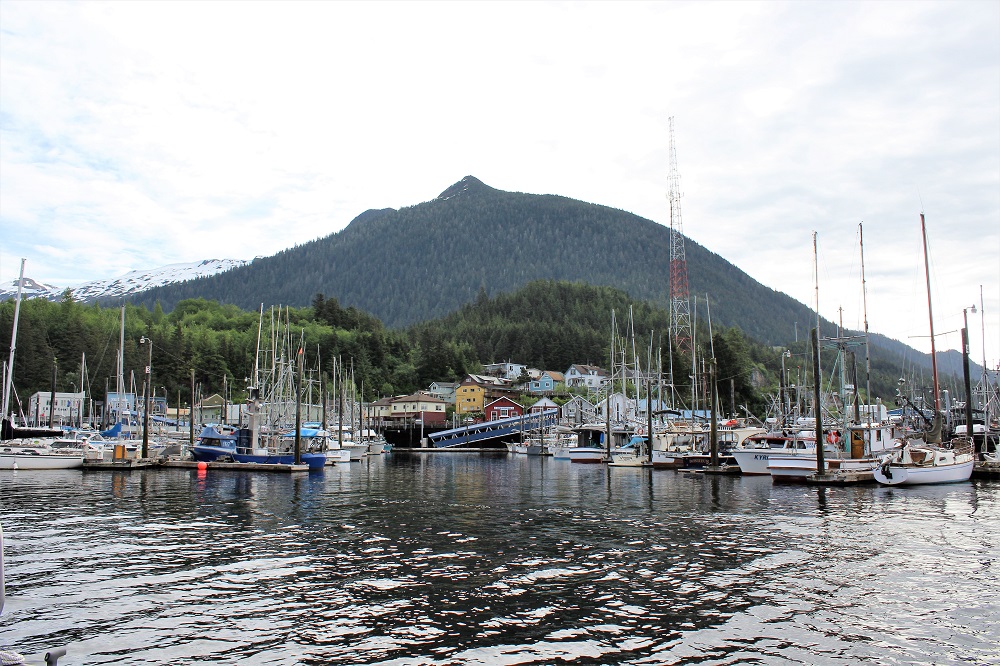 Plans have been made for me to go out on a fishing boat and hopefully, catch some fish. Owner of Baranoff Fishing, Chuck Slagle and Captain Todd are at the cruise dock to meet me. They tell me I'm in for a real treat since they've been catching a lot of Halibut in recent days. I am handed a pair of (attractive ????) rubber overalls and a pair of cute boots called Xtra tuffs that are heavy duty (waterproof boots and are a must have in Alaska).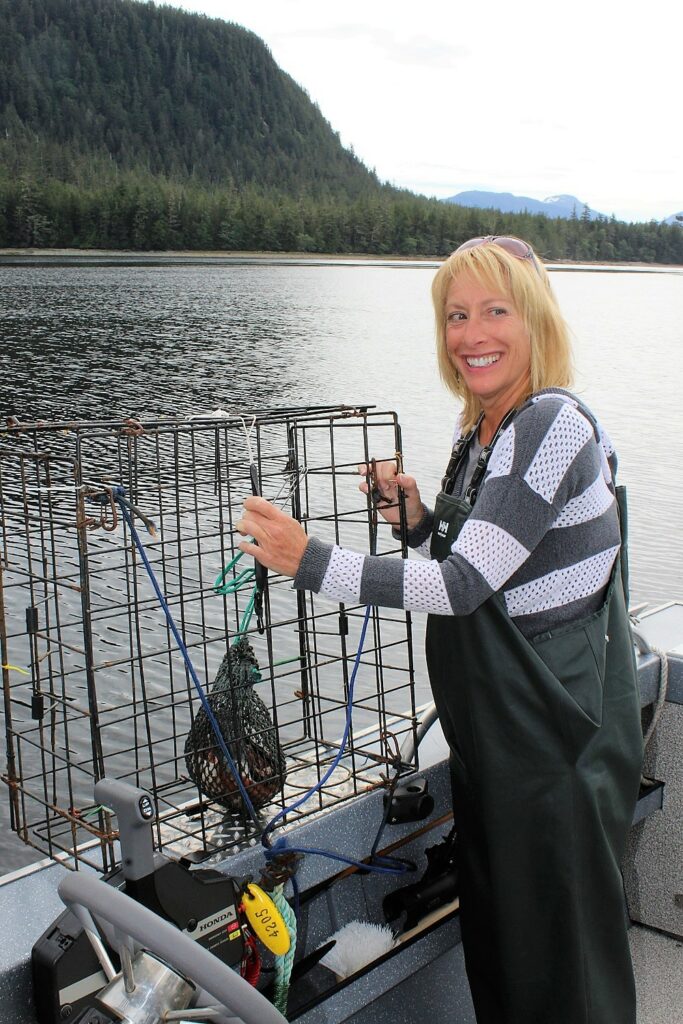 We head out with crab pots and very large fishing rods on the beautifully calm water, to a spot Captain Todd thinks is a good place to throw in the crab pots (marked with our names & addresses). He tells me that we will pick them up later in the day, and hoped that they will be filled with delicious Dungeness crabs.
As we continue out to go to his best fishing location, we are suddenly surrounded by a pod of porpoises that jump and swim alongside us just long enough for us to get some good photos. When Captain Todd spotted a whale off in the distance, he stops the boat so we could keep an eye out for more. He was hoping for us to see the process called bubble netting. This is a fantastic and fascinating process whereby the humpback whales disorient fish (like herring or salmon) by creating a net of bubbles surrounding the fish. Once the fish are in the "net" a feeding call is sent out and other whales come to feed on these trapped fish. We waited and watched for about 10 minutes but, unfortunately, we didn't get to experience this phenomenon.
We arrived at our first fishing location and spent a good half hour or so attempting to catch Halibut. Instead, we caught very bright orange rockfish and a flounder. Rockfish are amazing looking with their big bulgy yellow eyes. I was told it's great for fish and fish n' chips.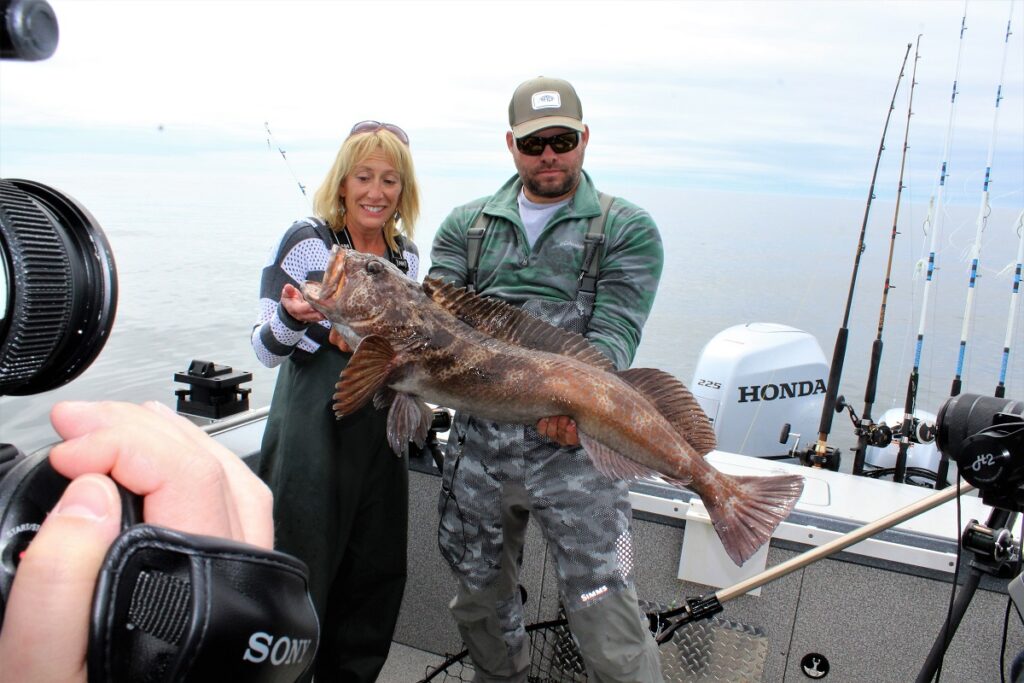 Since we were had no luck there, we moved onto another location that was very deep, (around 300 feet). This time, Captain Todd rigged an even larger fishing rod and showed me how to troll it on the bottom, bobbing it up and down slowly. After a few minutes he felt a big tug and handed me his fishing rod. I felt an immediate pull and had to secure the rod under my arm to keep it steady. I reeled and lifted and reeled and lifted, feeling my underarm get quite sore. I have no idea how long it took to finally lift out what has to be the ugliest fish I ever saw. Captain Todd was thrilled to see it was a Lingcod, a fish he said is even better and tastier than halibut! This fish was enormous, and I was excited that I was able to reel it all the way in (I had a big bruise the next day proving my hard work.)
We decided to give up looking for halibut and we now headed back to haul in our crab pots. Quite a few Dungeness crabs were in the pots, but not that many that we could actually keep (you're not allowed to take any crab less than 6 ½ inches across its body). You also can't keep any females and there is also a limit to the number of males you can take. Lots of regulations, but necessary for a healthy ecosystem.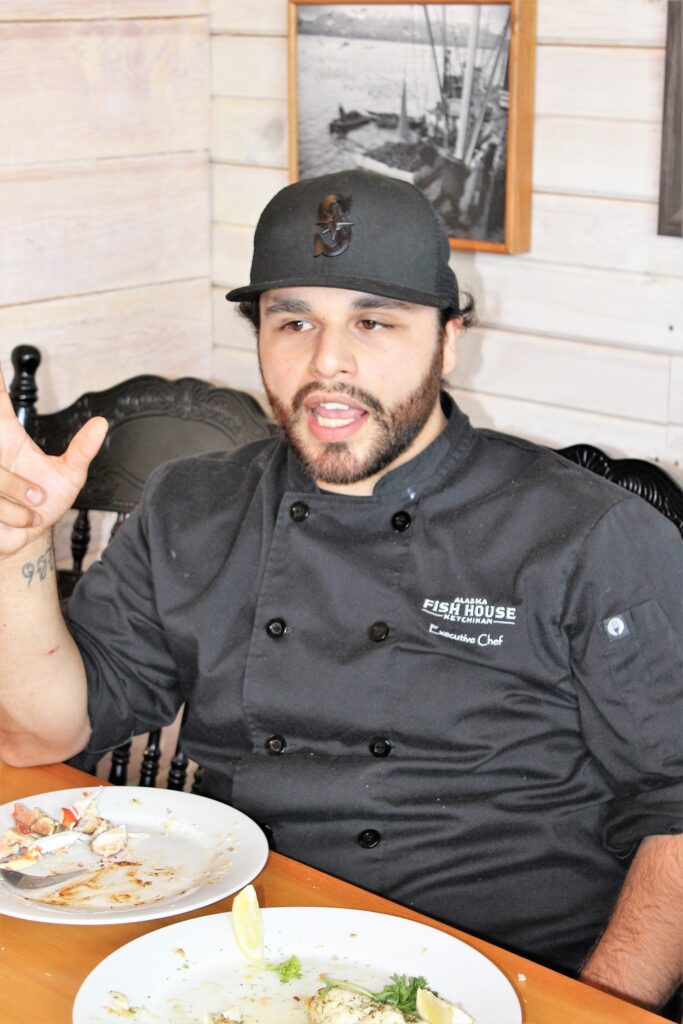 Back onshore, Chef Paris of Alaska Fish House is there to meet us and see what we brought back. He plans to take our "catch" and cook up some yummy dishes for us. The fish is all fileted and deboned and the Chef is more than excited to see we have a lingcod since he also said it's also super delicious fish.
The dining room of the restaurant if full of hungry Alaskans and tourists so we find a table in a back room where we relax with a flight of Alaskan beers while we wait for the Chef and our fish. The table is gradually filled with numerous dishes including a steaming plate of Dungeness crabs. Chef Paris sits down with us to indulge in this delectable fish frenzy. He has made lingcod with dill butter sauce, a blackened lingcod and a hazelnut panko crusted yellow eye rockfish. Eating fish this fresh is absolutely amazing, especially when you've caught it yourself.
While a lot of the fish was consumed that day, there was still enough left to ship back home where I would try to recreate some of Chef Paris's yummy recipes.