After a relaxing night on the river cruise ship we sailed on into the town of Passau, Germany known as the place where 3 rivers, the Danube, Inn and Ilz all meet. This is also a place where 3 countries meet with Austria to the South and Czech Republic to the East.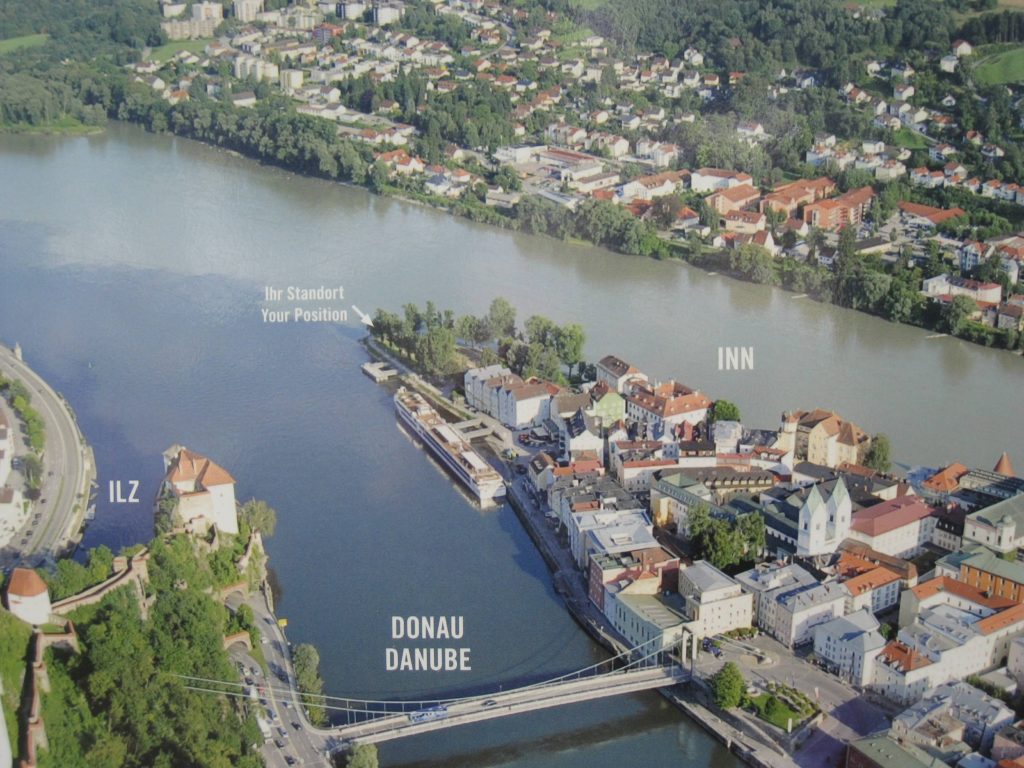 After meeting my local guide, Brigitte from Passau Tourism, at our boat, we walk high into the hills above the town near the Veste Oberhaus, the city's famous fortress. The wonderful chef, Joseph at Das Oberhaus, prepared me an incredibly delicious duck dish while we talked about his life growing up in a nearby town, and the food and beer (every conversation returns to beer at some point :). What a gorgeous spot and the food was delicious.

With this very short time in Passau, we now head back down to the town and Brigitte takes me to a very old Bavarian restaurant and wine cellar, Heilig-Geist-Stiftschenke, (don't ask me what that means). There are many different dining rooms and even an outdoor area onsite, but we went down to the cellar that is typically used for private events and dinners. We devoured fantastic pastries while she told me a bit about the interesting history of the place that dates back thousands of years when it served as a Franciscan monastery in the 14th century.
It was time to get back to the ship and on the way back I noticed a tiny but funky looking bar that had outdoor tables with sheepskin blankets on all of the chairs. As it turns out, Brigitte knew the owner and we were invited to have a specialty hot (but spiked) drink of his, as well as some chocolates to go along with it while staying cosy in our blankets. It was so nice I didn't really want to leave.
I have to admit, I didn't know anything about Passau before coming here and now that I do, I wish we had more time.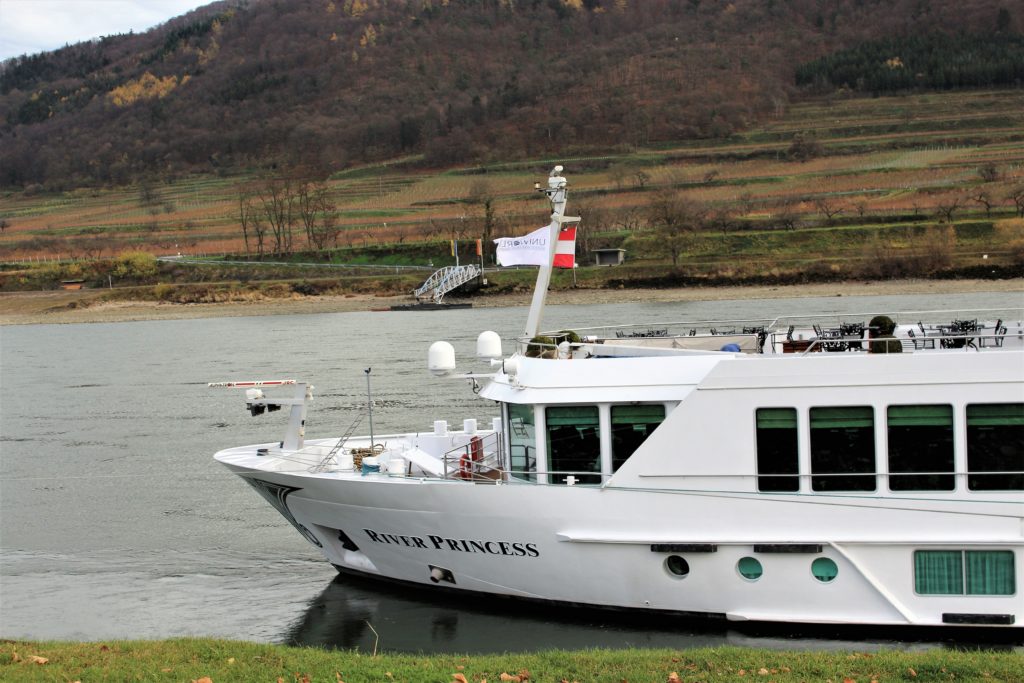 Spitz, Austria was the next stop on our river cruise after we left Germany and sailed on into beautiful Austria. We winded our way down the gorgeous Danube River, stopping at numerous locks until the waters leveled and allowed us to continue onward. The scenery surrounding us was stunning with vine filled hills and pretty cathedrals and churches everywhere.
As we arrive in Spitz, a fog rolled in and it started to rain. I was a bit disappointed that I wouldn't be able to walk around the pretty town and some of the amazing looking vineyards, but I did have a full day planned with Martin Wicke, who was my guide for the day.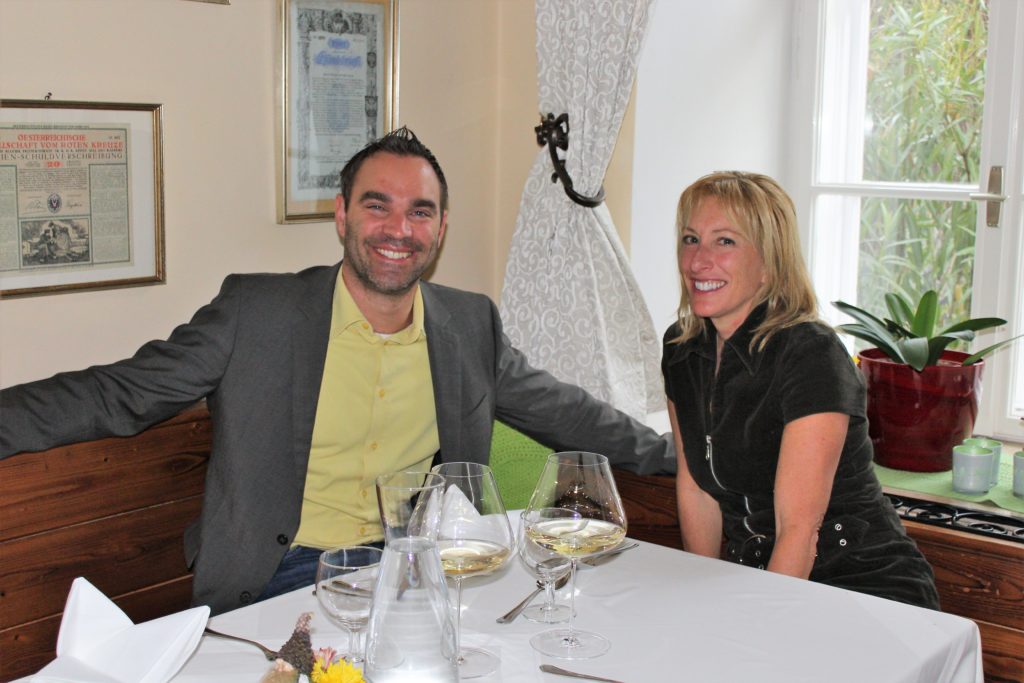 Martin drove us up to Gasthof Prankl, a family owned restaurant and inn that dates back to the 1600's. The owner, Martin Prankl, sat down with the other Martin and I and served us a dish with 3 different preparations of local red deer – braised, minced and grilled, and all tender and delicious. Then we had 3 different preparations of apricots, one of this area's most important products. There was a sorbet, a cake and a dessert-like dumpling that the crew tucked into before even I could.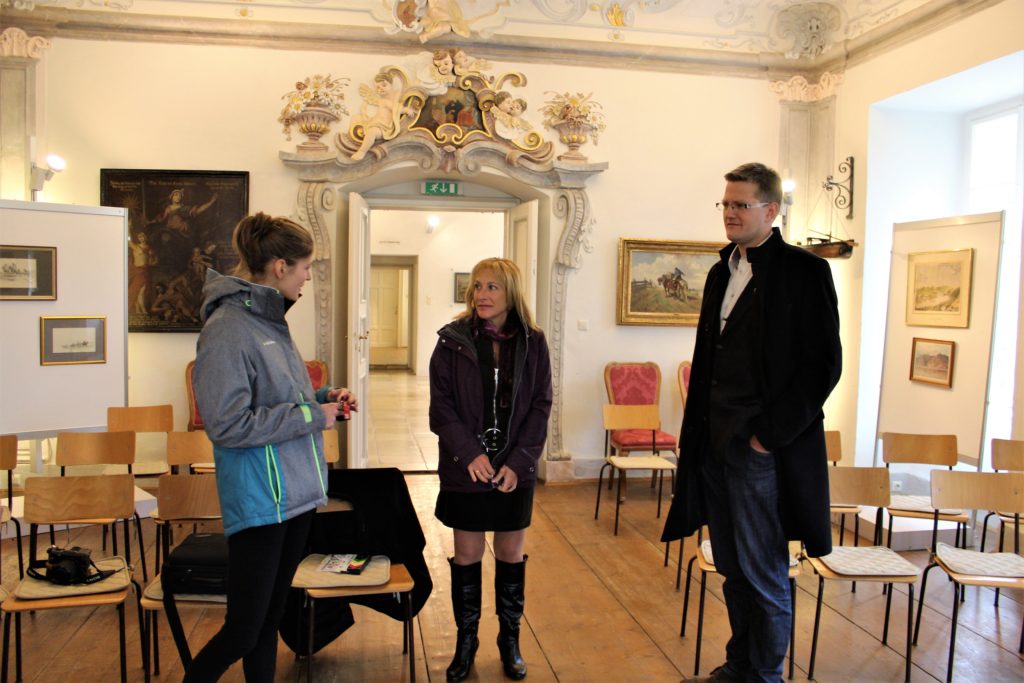 As I said, apricots are so important to the region so we next headed off to an apricot tasting. This took place in the town's shipping museum, the Schifffahrtsmuseum, with incredible displays and models of ships that portray the history of shipping on the Danube. Our tasting consisted of schnapps, a liqueur, a jam and even a salted apricot kernel. They certainly love their apricots!
Our final stop was at the award-winning winery of Johann Donabaum. Owner and winemaker, Johann explained their strict methods of maintaining their wine quality and categories b\y which they classify them: Steinfeder®, Federspiel® and Smaragd®. I was able to taste a fresh and lively Gruner Veltliner as well as their most significant Riesling. Again, it's too bad we couldn't walk around the vineyards. To make up for that, Johann gave me (and each of my film crew) a bottle of Gruner to take with us – what a gentleman.
Sadly, this was all we had time for on this short visit but it was fun and definitely tasty. Thanks Martin